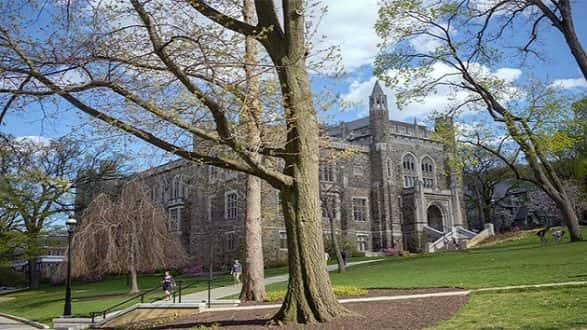 Lehigh University(BETHLEHEM, Pa.) — A sorority at a university in Pennsylvania has been banned from the campus for more than two years after an investigation revealed that drugs, alcohol and sexual activity were part of a scavenger hunt run by the Greek organization, the university said.
Alpha Chi Omega's Theta Chi chapter has lost its recognition from Lehigh University, which is about 60 miles north of Philadelphia, and will be banned from campus through May 2020, the university said in a statement to ABC News.
"Lehigh University expects all students to uphold community standards," the statement said. The scavenger hunt "failed to meet these standards."
The event was held in early December 2017 and called Road Rally, according to a post on a blog for the Lehigh Greek community, which the university confirmed is accurate.
After the university received reports of the incident, it placed the chapter on interim suspension on Dec. 12, the blog said. The national organization of Alpha Chi Omega went to the university to conduct its own investigation, which led to the sorority's headquarters putting the Lehigh chapter on probation, according to the blog.
Alpha Chi Omega's national headquarters did not immediately respond to ABC News' request for comment. However, according to The Associated Press, the national organization conducted an investigation resulting in probation and individual punishments..
Lehigh University's investigation led to its discipline committee on March 5 finding that the campus chapter of the sorority had violated several terms of the university's code of conduct, including on hazing, respect for community and respect for self, according to a statement by the committee posted on the Greek organizations' blog.
On the hazing charge, the discipline committee found that the sorority "created a situation that occurred on and off campus involving morally questionable quests such as a scavenger hunt" and treasure hunts. The actions that were part of such hunts "may not have been required for affiliation" in the sorority but "are clearly considered a rite of passage and a consistent part of membership."
In explaining its decision to temporarily end the sorority's recognition by the university, the panel said "the incident was a significant reprehensible event that the entire chapter was aware of and leadership endorsed."
"There is credible information that this event has been going on for years," the committee said, adding that it is "deeply concerned about the escalated nature of the content of this year's list."
The sorority has the right to appeal, according to the disciplinary committee statement posted on the Greek community blog.
Copyright © 2018, ABC Radio. All rights reserved.