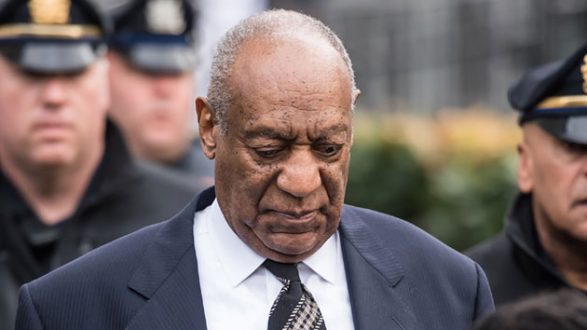 Gilbert Carrasquillo/Getty Images(NORRISTOWN, Penn.) — Jurors in Bill Cosby's sexual assault retrial heard the comedian's side of the story for the first time Tuesday afternoon, when law enforcement officials read portions of a 2005 civil lawsuit deposition the legendary entertainer gave to his main accuser's attorneys.
In the deposition excerpts, which were read aloud by a detective and a prosecutor, Cosby graphically described what he characterized as a consensual sexual encounter with Andrea Constand, who alleges she was sexually assaulted by the man once known as "America's Dad." The account Cosby described occurred prior to the night of the alleged assault, according to the entertainer's deposition. In the deposition, Cosby was describing this incident to make the case that the later incident was consensual.
The married Cosby, 80, is being retried on three felony counts of aggravated indecent assault. His first trial ended in a mistrial in June when a jury failed to reach a verdict.
Cosby has adamantly denied the accusations he drugged and sexually assaulted numerous women, including six who have now testified in his retrial. Five of the women were called by the prosecution to testify and show an alleged pattern of criminal behavior by Cosby, even though the statute of limitations has run out on filing criminal charges in their cases.
The charges the comedian faces stem from a 2004 incident at his suburban Philadelphia home, where Constand, 44, the former director of operations for the women's basketball team at Temple University, claims she was drugged and sexually assaulted by Cosby, who was a Temple trustee.
In the encounter at his home, Cosby said he began rubbing Constand's bare midriff — which he described as "the question zone," according to the deposition read for the jury in Montgomery County Court in Norristown, Pennsylvania.
He said he moved his hand down to her pants near her private parts — a region he referred to as "the area that is somewhere between permission and rejection," according to his deposition. He said Constand did not tell him to stop.
Cosby graphically described Constand returning his physical affection.
He said he didn't directly ask for permission to touch her private parts, but that his actions were a form of a wordless question.
"I'm asking, without saying [for permission]. I'm giving Andrea time to say yes or no — to the area right there in the question zone," Cosby said, according to the deposition.
"I didn't say it verbally. The action is my hand on her midriff, which is skin. I'm not lifting … I've got her skin and it's just above where you can go in her pants. I don't hear her say anything. And I don't feel her say anything," he said in the deposition. "And so I continue and I go into the area that is somewhere between permission and rejection. I am not stopped."
He said Constand ultimately rejected his advances when they moved to another room and he began to kiss her breasts, according to the deposition.
"Andrea said to me either one of two words: 'Stop' or 'No,'" he said in the deposition.
He said he stopped and walked her out of his home.
"She does not look angry. She doesn't say to me, 'Don't ever do that again.' She doesn't walk off in a huff, because I think I'm a pretty good reader of people in these romantic situations," he said in the deposition.
The prosecution is scheduled to wrap up its case this week.
If convicted, Cosby faces up to 10 years in prison for each count.
Copyright © 2018, ABC Radio. All rights reserved.