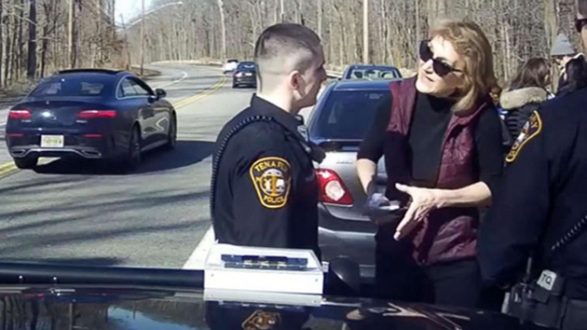 WABC(NEW YORK) — A Port Authority of New York and New Jersey commissioner has resigned after she is seen berating two police officers during a traffic stop involving her daughter, newly released police video shows.
Caren Turner, a lobbyist who headed the agency's Government and Ethics committee and sat on its operations committee, can be seen on dashcam video released by the Tenafly, New Jersey, police department flashing her Port Authority commissioner's badge and cursing at the officers.
Former Gov. Chris Christie named her a commissioner last year.
The incident began March 31 when police say they pulled over a Toyota for illegally tinted windows before discovering the car's registration had expired, telling the driver they had to impound the vehicle.
That's when Turner's daughter, a backseat passenger, called her mother to come pick them up. Turner soon arrived and approached the officers.
The video, which police released Tuesday night, shows her handing officers a business card and demanding to know why the vehicle had been pulled over. The officers told Turner they were legally barred from sharing that information with her because she was neither the driver nor the owner of the car.
Turner then begins to berate the officers saying at one point, "You're a disappointment and you are just following him, so you are also a disappointment."
ABC News has been unable to reach Turner for comment but her resignation letter to N.J. Gov. Phil Murphy reportedly included that she was "pleased to have played a role in the Port Authority's vital mission."
The bi-state Port Authority, which manages bridges, tunnels, airports, and seaports, said in a statement, "The video speaks for itself. The conduct was indefensible. The Board takes its recently adopted Code of Ethics for Commissioners extremely seriously and was preparing to form a special committee to review the findings of the Inspector General investigation and take action at this Thursday's Board meeting. Commissioner Turner's resignation was appropriate given her outrageous conduct."
In a tweet this morning, the New Jersey State Policemen's Benevolent Association praised the Tenafly officers for keeping their "composure despite conduct of political appointee."
Turner, who submitted her resignation last week, has not been charged.
Copyright © 2018, ABC Radio. All rights reserved.