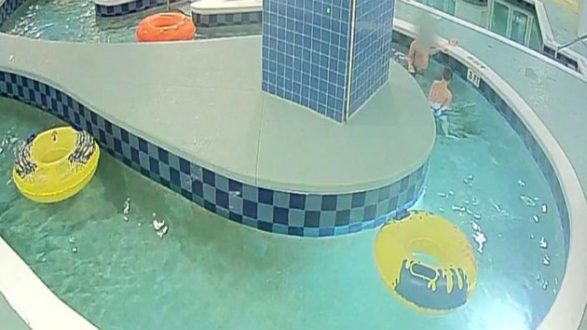 ABCNews.com(MYRTLE BEACH, S.C) — Surveillance video from the Avista Resort in Myrtle Beach, South Carolina, captured the near drowning of a 12-year-old boy who was playing in a lazy river.
Hotel security footage from the March 19 incident shows two boys fidgeting with an underwater grate in an attempt to expose the suction pipe below. One boy can be seen repeatedly diving into the water to explore what lies underneath the grate when his leg suddenly becomes lodged between the 6-inch wide pipe.
Trapped underwater, the boy's friend tries to free him. After an unsuccessful attempt he calls for help and bystanders rush to help free the boy. One man was able to administer underwater mouth-to-mouth resuscitation to keep the boy alive until authorities arrived.
According to a police report, North Myrtle Beach Police responded to the scene around 10 p.m. Emergency responders can be seen diving into the pool and eventually freeing the boy from his entrapment and dragging him out of the water. The video shows a female officer vigorously pounding on the boy's chest to keep his heart beating before he is carried away on a stretcher. The boy was underwater for 9 minutes.
Once EMS personnel were able to revive the boy he was taken to Grand Strand Medical Center for further treatment, authorities said.
North Myrtle Beach public information officer Patrick Dowling told ABC News the boy's family does not want his identity to be released.
Further details on the boy's condition is unknown at this time.
No charges have been filed against the resort and no criminal misconduct was found, Dowling said.
Copyright © 2018, ABC Radio. All rights reserved.