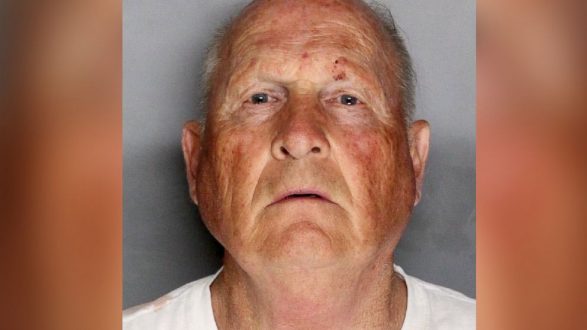 Sacramento Police Department(SACRAMENTO, Calif.) — The characteristics of the suspected serial rapist and killer known as the "Golden State Killer" — arrested this week decades after the California crime spree — are the perfect fit with the profile of a serial killer, says former FBI agent and ABC News contributor Brad Garrett.
An increase in violence
Joseph James DeAngelo, a 72-year-old former police officer, was taken into custody this week on suspicion of being the serial killer. He is accused of committing 12 murders, at least 50 rapes and multiple home burglaries in the 1970s and 1980s.
The "Golden State Killer" — whose crimes spanned from 1976 to 1986 — started his crime spree with home burglaries and sexual assaults, and later escalated the violence to murders and double murders.
Serial killers "predictably get more violent," Garrett told ABC News. "All of those increases the thrill and increases the risk."
The "Golden State Killer" also broke into homes where there were families — and committed those sexual assaults with his victims' parents or children present.
That's "an ultimate power play," Garrett said, "and that's what these guys are all about."
Margaret Wardlow, who at the age of 13 was raped by the "Golden State Killer" in 1977, told ABC affiliate KGTV in San Diego that she had read articles about the suspect, so she recognized what she perceived as his need for power before she was attacked.
So, Wardlow said, during the attack, when the suspect said to her, "Do you want to die? Do you want me to kill your mother?" Wardlow said she responded, "I don't care."
She said she thinks that response saved her life, KGTV reported.
An attraction to uniform
DeAngelo served in the Navy in the 1960s and then became a police officer.
"Serial killers tend to be attracted to uniform — they tend to be attracted to military and law enforcement," Garrett said. "They don't necessarily go into either one but they are intrigued by it."
Law enforcement and military members lead regimented lives, Garrett explained, and "to a certain extent many of [the serial killers] feel like they're very organized and regimented… to not get caught."
Farrel Ward, who worked with DeAngelo at the Exeter Police Department, told ABC station KFSN in Fresno that he believed DeAngelo's role as a police officer may have helped him evade capture for so long.
"He outsmarted everybody for 40 years," Ward told the station. "So with his education and his experience in law enforcement, he kind of knew what the next step was going to be with the police department. He had to know he had so much time to get in and get out, he would probably know the response time of the police department."
Garrett said the crime spree likely moved from Sacramento County in Northern California down to Orange County in the southern part of the state because "serial killers watch the media. They see what the police are doing and they tend to adjust."
Garrett said that also accounts for why the "Golden State Killer"'s modus operandi changed: for example, sometimes he used a gun, while other times he killed by blunt force trauma.
Hiding in plain sight
DeAngelo lived in Sacramento County — where the crime spree started — with his wife and three daughters, one neighbor said.
After his time as a police officer, DeAngelo spent 27 years working for Save Mart Supermarkets at a distribution center in Roseville, near Sacramento, said Victoria Castro, a public affairs manager for Save Mart. He retired last year.
"None of his actions in the workplace would have led us to suspect any connection to crimes being attributed to him," Castro said in a statement. "We are working with the Sacramento County District Attorney's Office on their investigation."
Serial killers "are masters at leading what I call compartmentalized lives," Garrett said.
They can commit murders, "go back home, make breakfast for their kids, take them to school, kiss the wife goodbye, go to work, go to bowling, go out socially, and then go back out the next night and do it again," Garrett said.
"Serial killers love to live in plain sight. They can even have conversations with neighbors [about a serial killer in their town], Garrett said. "In their mind, it's another power thing."
"Many of them are disciplined enough to keep their mouths shut," he said. "He fits that profile."
"They don't like sharing what they've done with other people — they want it all to themselves," Garrett continued. "The reason [the 'Golden State Killer] takes things that are personal, like engraved wedding bands or antique cuff-links that would have personal meaning to the victim, is that he can relive the assault and the murder by looking at those items. That's very textbook and common with serial killers."
While the "Golden State Killer"'s crime spree spans from 1976 to 1986, Garrett said it's likely he committed crimes after 1986.
"It is such an obsession and compulsion to commit these acts because of how they make them feel — the power, the control, the sex," Garrett said, describing it as a "high" they can't get anywhere else.
Garrett said he thinks it's important for investigators to look at DNA connected to outstanding sexual assault cases throughout California, adding the "Golden State Killer" may have changed his MO after 1986.
"It's reasonable there are other crimes," he said.
Copyright © 2018, ABC Radio. All rights reserved.