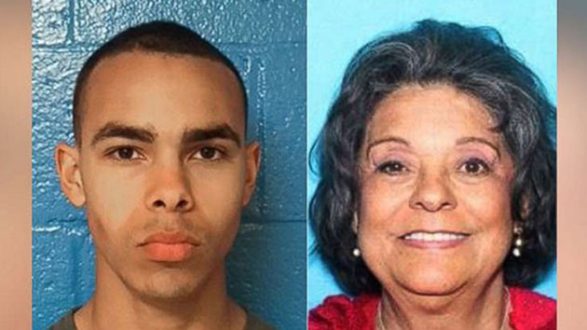 Halifax County Sheriff's Office(ROCKY MOUNT, N.C.) — An 18-year-old Marine who allegedly went AWOL is accused of killing his grandmother, according to North Carolina officials.
Sally Copeland Evans, 74, was reported missing on Thursday after family members said they hadn't seen her for several days, the sheriff's office in Halifax County, North Carolina, said.
The last one to see Evans was her 18-year-old Marine grandson, Isaiah Kahleal Evans Caeser. Caeser, stationed at Fort Benning in Georgia, had been absent without leave since April 2 and was wanted for desertion, the sheriff's office said.
According to family, Evans was trying to convince her grandson to go back to the military, the sheriff's office said.
Authorities found Caeser at a hotel in the Rocky Mount, North Carolina, area. He allegedly used his grandmother's credit card to buy a room, the sheriff's office said.
Explosive material was found in the room, and the hotel was evacuated, the sheriff's office said. No bomb was found.
Caeser was taken into custody, charged with the murder of his grandmother and served with a fugitive warrant for desertion, the sheriff's office said. He is set to appear in court on May 16.
The sheriff's office said his grandmother was found dead at an undisclosed location near Roanoke Rapids, North Carolina, which is about 45 miles away from Rocky Mount.
A spokesperson for Fort Benning did not immediately respond to ABC News' request for comment.
Anyone with information is asked to call the Rocky Mount Police Department at 252-972-1411.
Copyright © 2018, ABC Radio. All rights reserved.