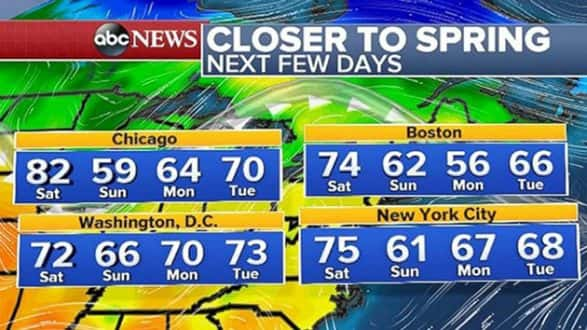 ABC News(NEW YORK) — A five-day spate of severe weather that brought 38 reported tornadoes in six states wrapped up on Friday with more than 100 reports of severe winds across the Northeast. Hundreds of thousands of power outages were reported from Michigan to upstate New York and New England.
For a majority of the country, a less-turbulent few days are ahead.
A weak system will move through the southern U.S. on Saturday and make its way to the mid-Atlantic by Sunday morning. There is some rain with this system and a couple of thunderstorms. However, the risk for severe weather and flash flooding remains low.
The system will try to tap into some moisture as it moves out into the Atlantic Ocean, but the heaviest of the rain appears likely to miss the entire East Coast.
Temps cool in Northeast, heat up in Southwest
The system will also bring cooler air down from Canada into the Northeast. After several days of hot temperatures in the Northeast, readings will dip back toward seasonably cool levels in the Midwest and Northeast. The cool-down should be brief, with temperatures bounding back to seasonable temperatures during the middle of the upcoming work week.
Meanwhile, in the Southwest, the heat is beginning to build. There are excessive heat watches and warnings for parts of extreme Southern California and Arizona, including Phoenix. A round of triple-digit temperatures will arrive in Phoenix and Las Vegas by the beginning of the new week. A couple of records could be challenged in Arizona on Sunday.
Copyright © 2018, ABC Radio. All rights reserved.