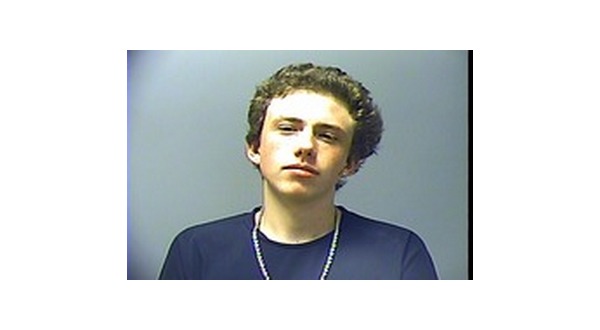 For the second time in just over a month, 18-year-old Jonathan Smith of Mountain Home has been arrested on felony drug charges.
In the last incident Tuesday, a chase of the Mountain Home teen on a motorcycle led to a marijuana grow operation on Remington Circle.
According to the incident report from the Mountain Home Police Department, an officer attempted to initiate a traffic stop near Harp's on U.S. Highway 62/412 West Tuesday afternoon when he observed Smith allegedly fail to obey a red traffic signal and his vehicle without outside mirrors.
Smith continued westbound, missing several opportunities to pull over, and continued at a rate of 50-60 miles per hour. He then turned right onto Remington Circle, then left the roadway traveling through the yard of a residence.
The officer went to the opposite side of the residence and observed the motorcycle on its side next to a shed, with Smith standing next to it. Smith was placed into custody without incident.
During a search, the officer located a small bag in Smith's right front watch pocket containing a white crystal substance, later field testing positive for methamphetamine. A glass smoking pipe with white residue was located in Smith's right front pocket, along with $830 in cash.
While searching the motorcycle, the officer detected a strong smell of marijuana. Approximately 5 feet from the motorcycle, a marijuana grow with about four plants was discovered.
Contact with the homeowner, 39-year-old Scott L. Smith, was made when he arrived home about 1:30 and signed a consent to search form. Scott Smith, Jonathan Smith's uncle, allegedly told officers the marijuana grow was his and also showed the officer processed marijuana inside the home.
Jonathan Smith has been charged with a felony count of possession of a controlled substance, as well as possession of drug paraphernalia, fleeing and failing to obey a traffic control device. His bond was set at $10,000.
In June, Smith was arrested and charged following a traffic stop on a vehicle for improper display of registration. Due to his actions prior and during the stop, a K9 officer was requested. The K9 alerted on the vehicle. During the dog's sniff, the officer spoke to a passenger in the vehicle, who advised Smith had put something under the car seat.
A search revealed a loaded pistol and a small amount of a crystal substance.
Smith was charged following that incident with felony counts of simultaneous possession of drugs and a firearm and possession of a controlled substance, methamphetamine. He was also cited with misdemeanor charges of no liability insurance, driving without a license and improper use of evidence of registration.
WebReadyTM Powered by WireReady® NSI