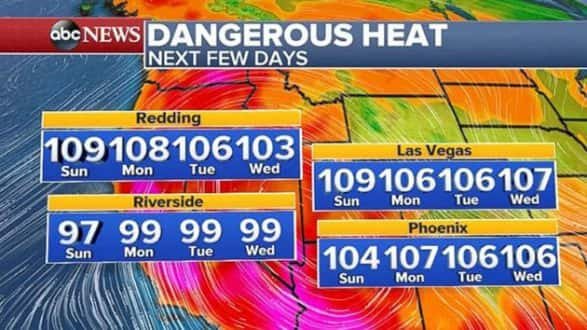 ABC News(NEW YORK) — There are more than 60 large, uncontained wildfires burning in 13 western states on Saturday as the region deals with bone-dry humidity levels and temperatures in the 90s and above.
Dangerous heat will remain in place for the next several days across parts of the West, including much of California, Oregon, Nevada, Washington and Arizona. Excessive heat watches and warnings, heat advisories and red flag warnings have been issued for parts of the region.
On Saturday, high temperatures across parts of central and northern California, including the Redding area, will be above 100 degrees. Unfortunately, there is no significant cooldown coming to this region in the next few days. Temperatures will be near or above 100 degrees from Riverside County to Shasta County, California. Additionally, there will be little relief from the heat overnight.
Fresno saw temperatures over 100 degrees again on Friday, the 22nd day in a row of over 100-degree heat, a new record streak for Fresno.
Relative humidity on Saturday across parts of the West, including where some of the large California fires are burning, will be as low as 5 percent. The threat for fires will persist through the weekend due to the very dry air, high temperatures and locally gusty winds.
Storms move through Plains, Southeast
A line of strong to severe thunderstorms is moving through southern Kansas and into parts of Oklahoma on Saturday morning. These storms will weaken through the morning hours. There are also some strong to severe storms moving through eastern Nebraska and northeast Kansas, where localized flash flooding is possible Saturday morning.
However, new summer thunderstorms are expected to develop Saturday across Wyoming to western Kansas.
There is slight risk for severe weather for this region, including Cheyenne, Wyoming; Colby, Kansas; and Dodge City, Kansas. The main risk will be for damaging winds, large hail and perhaps a brief tornado.
Additionally, there will be numerous strong thunderstorms with locally heavy downpours across the Southeast coast this weekend.
Any slow-moving summer thunderstorm has the potential to deliver locally heavy downpours. This is a particular concern across parts of the central Plains and parts of the Carolinas, where 2 to 3 inches or more of rainfall is possible through Monday. Localized flash flooding remains a possibility.
The weather patterns looks wet through the next few days across the southeast U.S., with continued chances for torrential rain from summer thunderstorms.
Copyright © 2018, ABC Radio. All rights reserved.