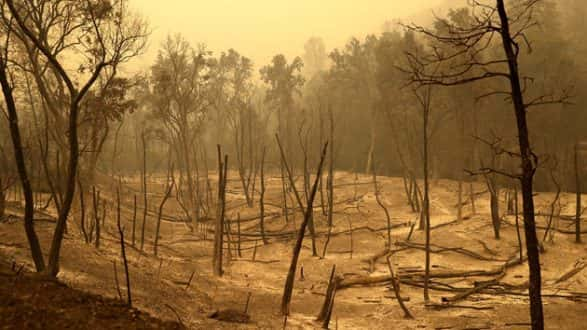 Justin Sullivan/Getty Images(REDDING, Calif.) — Firefighters are making progress in battling a deadly wildfire in Northern California that's leveled hundreds of homes and forced thousands of residents to flee the area.
The Carr Fire was about 20 percent contained as of late Monday afternoon, up from about 17 percent on Sunday, as fire crews raced to smother the massive blaze before the weather turned against them.
At least six people have died and more than 950 homes and buildings have been destroyed since the fire ignited last week, fire officials said
Among the dead were two firefighters and a 70-year-old woman and her two great-grandchildren, who died when the fire swept through their home in Redding, California. The sixth victim, who was not identified, did not evacuate despite receiving a warning, authorities said.
The National Weather Service had forecast more hot and dry conditions for Monday, along with high wind gusts a day after crews battled in difficult conditions.
"Extreme fire conditions continued today while Firefighters worked to build control lines," Cal Fire said in a statement on Sunday. "Shifting winds, dry fuels and steep drainages contributed to rapid growth."
The fire, ignited by a vehicle on July 23, has scorched 98,724 acres of land, destroying 723 homes and damaging another 159, officials said Monday. Three commercial structures and 240 outbuildings were destroyed.
Tens of thousands were ordered to evacuate, with four local centers opened to handle the inflows.
Nearly 3,400 firefighters are battling the blaze from the ground and in the air, as officials have deployed 17 helicopters, 334 fire engines, 68 bulldozers and 65 water tenders.
The Carr Fire was one several uncontained wildfires raging in California as the state deals with brutal temperatures and dry conditions.
Another large fire, dubbed the Ferguson Fire, has killed two people, both firefighters, and burned more than 54,481 acres in Mariposa County, California, near Yosemite National Park, authorities said. That fire was about 30 percent contained as of late Sunday.
Copyright © 2018, ABC Radio. All rights reserved.