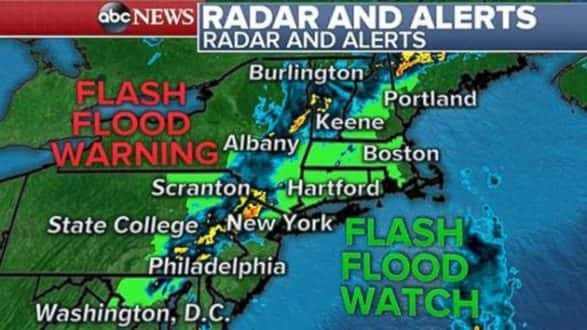 ABC News(NEW YORK) — Strong thunderstorms rolled through the Northeast on Friday, bringing heavy rains, gusty winds and even some hail. Over 2 inches of rain was reported in parts of New York, Massachusetts and Connecticut.
Rain is still moving through the region and is expected to continue through Saturday afternoon and evening. Already, up to 4 inches of rain has been reported in northeastern Pennsylvania, and over 4 inches of rain has been reported in southeast Pennsylvania, where flash flood warnings were in effect through the overnight hours.
Strong storms are moving through the Northeast once again Saturday morning. Heavy rain is expected to fall over the next three to six hours in upstate New York, Vermont, New Hampshire and Maine with rainfall rates of 2 inches per hour expected. Slow-moving thunderstorms are heading toward New York City early Saturday, which could potentially cause roadway flooding.
Flash flood watches and warnings are in effect for a substantial portion of the Northeast on Saturday. Through Saturday, rainfall totals in parts of the Northeast, especially interior New England, could exceed 2 inches.
Sunday is looking much drier across the region.
Heat continues in West
There are 66 uncontained wildfires still burning in 13 western states on Saturday.
The Mendocino Complex Fire in Northern California is 30 percent contained, but 41 homes and 47 structures have been destroyed by the fire so far.
Meanwhile, the Ferguson Fire has officially entered Yosemite National Park. For the safety of both tourists and emergency management, the park remains closed through Sunday. The fire is 41 percent contained and has burned 77,207 acres.
Unfortunately, the weather pattern is looking hot and dry for parts of the West in the coming days. Saturday will be relatively "cooler" for interior California, but the heat will be making a return in the coming days, with many areas experiencing triple-digit heat through the middle of next week.
Excessive heat watches, as well as red flag warnings, are in effect for parts of California, Nevada, Arizona, Utah and Wyoming.
Copyright © 2018, ABC Radio. All rights reserved.