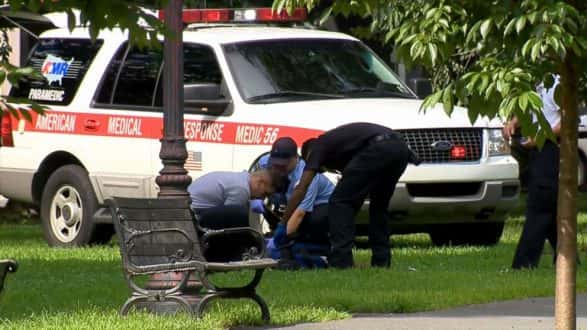 WTNH-TV(NEW HAVEN, N.H.) — Connecticut police have made multiple arrests in connection with 76 overdose cases at a New Haven park.
First responders found numerous people who appeared to have overdosed on the New Haven Green on Wednesday, with 25 of those overdoses occurring within a three-hour span in the morning and some four to six at a time, officials said.
Seventy-one people suffering from apparent overdoses were transported to local hospitals from the New Haven Green, according Dave Hartman with New Haven Police.
Another 5 people refused medical attention and were not in enough distress to be transported for treatment, he said.
Three arrests have been made in the case, Hartman said, but officials cannot say for certain if all three arrested or just one of them are directly responsible for the overdoses. Their names have not been released and the investigation is ongoing, police said.
Police believe all the overdoses are from K-2, also known as synthetic marijuana.
The victims appeared to be suffering from a "multiple of signs and symptoms ranging from vomiting, hallucinating, high blood pressure, shallow breathing, semi-conscious and unconscious states," Rick Fontana, director of the city's Office of Emergency Operations, told ABC News. Two people had life-threatening symptoms, he added.
"There have been a couple individuals that were certainly more sicker than others," Fontana told reporters at a press conference Wednesday morning. "We are doing our best to get people to the hospital in the safest, most practical and efficient manner. We have no deaths reported."
New Haven Fire Chief John Alston Jr. said emergency crews were overwhelmed with "multiple" 911 calls about people who were experiencing overdose symptoms or were passed out on the New Haven Green just after 8 a.m. local time. First responders sprinted across the park from victim to victim as more calls came in.
"Even while we were trying to return people to service, they were passing victims on the ground," Alston told reporters.
The overdoses were concentrated on the New Haven Green but because it's now dark the incident is beginning to branch out to different parts of the city, where more people are being found, police said.
Victims were given several doses of naloxone, an antidoe for narcotic overdoses, both on the scene and at the hospital.
"It's a nationwide problem," Alston said of drug overdoses. "This is a problem that's not going away."
Copyright © 2018, ABC Radio. All rights reserved.