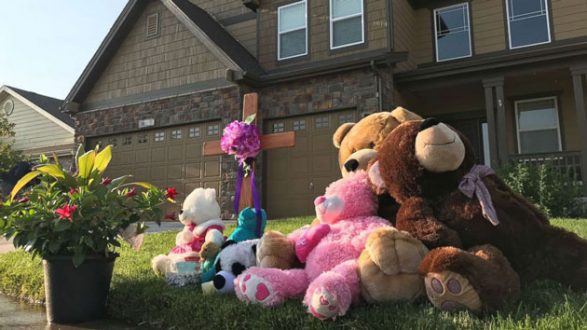 ABC News(FREDERICK, Col.) — Two days after Chris Watts' pregnant wife and two young daughters were reported missing, Watts was taken into custody, accused of killing Shanann Watts and the couple's children, Celeste, 3, and Bella, 4.
Authorities have not commented on a possible motive in the case that has shocked the small town of Frederick, Colorado.
Here's some of what we know — and still don't know — about the case.
A mysterious missing persons case
Police were notified Monday by a concerned family friend who hadn't heard from Shanann Watts, who was 15 weeks pregnant, police said.
Chris Watts, 33, had initially told reporters that his wife, 34, disappeared without a trace, leaving her purse and keys at home.
"When I came home and then walked in the house, nothing. Vanished. Nothing was here," Chris Watts told ABC Denver affiliate KMGH-TV Tuesday. "My kids are my life … I mean, those smiles light up my life."
'He fooled us'
After Shanann Watts and the girls were reported missing, family friends Nick and Amanda Thayer came to Chris Watts' side.
The Thayers helped their friend think through ideas on how to find his missing wife and daughters. Chris Watts even spent Tuesday night at the Thayers' home.
"We feel so stupid … trusting him to stay the night in the same house as our daughter," Nick Thayer told ABC News on Thursday, overcome with emotion. "I'll never let that go."
He said it didn't cross his and his wife's minds to ask Watts if he was involved.
Watts was a "hands-on dad," Nick Thayer said. "And that's why we were there with him because all the times we were with him it was nothing but love" toward his family.
"He fooled us. And I'm so sorry. We just thought we were doing the right thing by being a good friend," Nick Thayer said. "We were duped."
"In the 48 to 72 hours we were with him … he was his normal self," Amanda Thayer added. "He never once cried."
"He and Shanann were always hugging, kissing and smiling. They were just a picture of 'in love,'" she said.
Now, with the accusations that Watts killed his family, Amanda Thayer said: "I want to know why."
"It doesn't make sense," her husband said.
Bodies recovered

Bodies believed to be Shanann Watts, Bella and Celeste have been recovered near each other, officials said while declining to say the location.
According to ABC affiliate KMGH-TV in Denver, Shanann Watts' body was found on property where Chris Watts worked.
KMGH-TV cited sources who said that the daughters' bodies were found inside mostly full oil and gas tanks.
Prosecutors said in court Thursday they believe the victims were killed in the family's home, KMGH-TV reported.
A husband in custody
Chris Watts has been booked on three counts each of first-degree murder and tampering with physical evidence.
He has not yet been formally charged and is set to return to court on Tuesday.
"The suspect is presumed innocent until otherwise proven guilty in the court of law," Weld County District Attorney Michael Rourke said at a news conference Thursday.
Authorities have declined to comment on a potential motive.
"Our role now is to do everything we can to determine exactly what occurred and assist in filing the thorough case," Colorado Bureau of Investigation director John Camper added on Thursday.
Copyright © 2018, ABC Radio. All rights reserved.