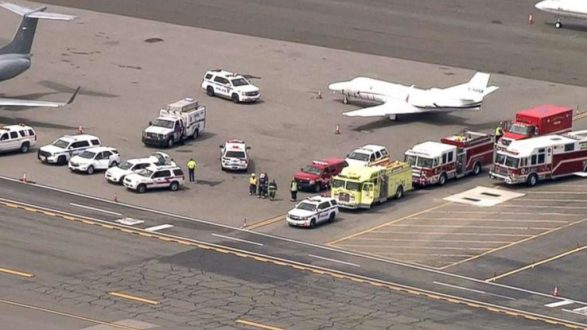 WABC-TV(NEW YORK) — A plane is attempting to make an emergency landing in New York after blowing two tires during takeoff at Teterboro airport in New Jersey, authorities said.
The plane, a Gulfstream Aerospace GLF-4 aircraft, is now being diverted to Stewart International airport in Orange County, New York, a Federal Aviation Administration official told ABC News. The plane was previously being diverted to Westfield-Barnes Regional Airport in Massachusetts.
Sixteen people are on board the aircraft, according to the FAA.
It was originally heading to London's Luton Airport and took off around 10:50 a.m., the FAA said. It has been circling over Connecticut to burn some of the fuel it had ready for the trans-Atlantic flight before attempting the emergency landing. Stewart airport is about 50 miles north of Teterboro airport.
The type of aircraft is mainly used for private and business flights, ABC-owned station WABC-TV reported.
This is a developing story. Check back for updates.
Copyright © 2018, ABC Radio. All rights reserved.