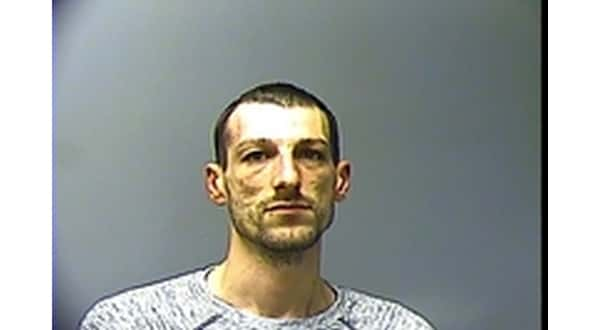 An arrest has been made in connection with a break-in at a retro store in Mountain Home which occurred in September. Arrested in connection with the burglary of Flashbacks is 31-year-old Ryan Wade Amyx of Mountain Home thanks in part to a photo on his Facebook page.
The store on U.S. Highway 62 East was broken into Sept. 27th, with the thief getting away with $6,800 worth of jewelry. Video surveillance showed a male subject in the store wearing a dark hooded jacket, mechanic's gloves and a backpack removing trays of jewelry from a display case and cash from the register. The subject could not be identified from the video.
The probable cause affidavit in the case indicates a few days after the theft, the owner of Flashbacks contacted the Baxter County Sheriff's Office with information he had received about the missing jewelry. The owner says he was told Amyx, along with two other people, were trying to sell a large quantity of jewelry in Marion County.
Investigators later learned Amyx had sold a distinctive looking ring with various color shapes and sized stones to a pawn shop in Springfield. The local store owner provided photos of the display case taken prior to the burglary and the distinctive looking ring is in the display case.
Amyx also allegedly sold other rings to a pawn shop in Baxter County.
Amyx was interviewed by sheriff's office investigators Tuesday, where he denied selling rings to a pawn shop. When asked about selling the ring in Springfield, Amyx says it was his grandmother's, but he had to sell it for gas money. His grandmother told investigators she had never seen the ring.   Amyx also told authorities the rings he did pawn locally came from a female friend who was killed in an automobile accident.
One of the biggest pieces of evidence investigators got in the case was when they checked the Facebook page belonging to Amyx. In one of the photos, Amyx is wearing a pair of gloves identical to the ones seen in the surveillance video from the store during the theft.
Amyx is charge with felony counts of commercial burglary and theft of property and a misdemeanor count of criminal mischief in the first degree. He is being held on a $25,000 bond in the Baxter County Detention Center.
WebReadyTM Powered by WireReady® NSI