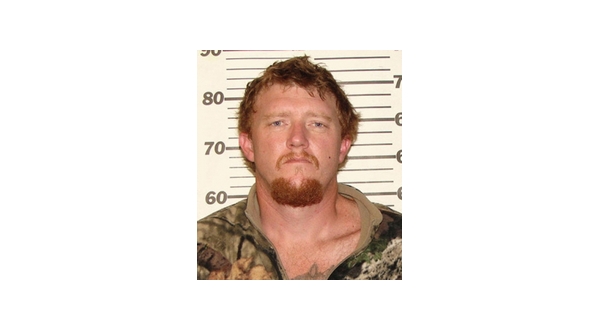 An Ozark County man, 35-year-old Dustin Lee of Vanzant, has been sentenced to five years in prison in connection with the burglary and theft of multiple guns and other items in 2018. The Ozark County Times reports Lee entered a guilty plea in December to first-degree burglary and stealing a firearm.
Lee's Ozark County sentence is to run consecutively with a Wright County case, in which he was sentenced in May to six years in prison, after pleading guilty to unlawful possession of a firearm, receiving stolen property and possession of a controlled substance.
Lee was originally charged with 13 felonies in the Ozark County case. He was charged as a persistent offender following convicted in 2005 in Douglas County and in 2011 in Ozark and Wright counties.
According to the probable cause affidavit, the latest sentence stems from a March 4th incident when Ozark County deputies were dispatched to a residence along Carson Lane after a burglary was reported.
Homeowners told the officers they left for church shortly after 9:00 and when they returned, they noticed several items missing from their house, including numerous guns, a chainsaw and a laptop.
The couple checked their home security camera footage and saw a black Jeep arrive at the residence five minutes after they left. Two men were seen entering the home and returning to the vehicle carrying several items. The couple told the officers Lee, who was a former employee, was the only person who had been to their residence in the last year.
The next day, law enforcement received a tip of a black Jeep driven by Lee was in the Mountain Grove area, leading to the Vanzant man being taken into custody.
A search of Lee's vehicle revealed a .357 magnum reported missing by the Ozark County couple the previous day reportedly found in the vehicle's glove box. Lee reportedly said he would not tell law enforcement where the other guns were. A silver pocket watch, matching the description of one stolen from the couple's home, was also found on Lee.
A female passenger in the Jeep when it was stopped in Wright County said the vehicle belonged to her, but Lee frequently borrowed it. She said Lee had borrowed the vehicle March 3 and returned it around noon on March 4.
She also told the officer Lee often stayed in a storage shed on her parents' property, but she said she had no knowledge he had stolen any items. She gave officers permission to search her shed. Inside they found a chainsaw, a .50-caliber muzzleloader rifle, a pellet rifle and a .243 rifle, along with multiple drugs and paraphernalia items, the statement says. The rifles and chainsaw all matched the ones reported as missing the previous day.
Additional weapons Lee is charged with stealing include a 30-30 model 94 rifle, a .243 single-shot rifle, a .270 model 200 rifle, a 20-gauge over/under shotgun, a .22-caliber model 60 rifle, a .22 long model 60 rifle, a .357 magnum pistol, a semi-automatic shotgun, a model 6085 rifle and a .22-caliber semi-automatic rifle.
Lee reportedly told officers he'd been using methamphetamine for several days.
WebReadyTM Powered by WireReady® NSI