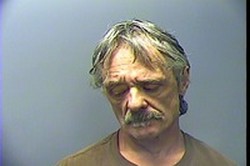 Circuit Court Judge John Putman has sentenced 58-year-old Dan Wessels of Flippin to one year in prison and a $5,000 fine on charges of theft of property and criminal mischief, following a one-day jury trial.
According to the probable cause affidavit in the case, a female victim filed a complaint in August 2016 with the Marion County Sheriff's Office alleging Wessels had taken her vehicle and would not return it.
The woman said her husband had driven her SUV to Wessels' home to help work on a second vehicle belonging to the couple. The victim's husband said after getting the second vehicle running, he drove it back to their residence in Yellville, leaving the SUV at Wessels' residence. Since then, Wessels had refused to return the SUV or say where it was.
In October 2016, the female victim told authorities she had contacted the owner of a large shop on the same property were Wessels was renting a home. The man told the victim she could enter the building and retrieve her vehicle, if it was unlocked.
The woman said she entered the building and found her vehicle completely taken apart, as if Wessels had been running a "chop shop." The victim made a video of the scene and provided it to law enforcement. In the video, an SUV the victim identifies as hers is dismantled to the frame.
This was not Wessels first brush with law enforcement. In 2017, he pled no contest to charges of terroristic threatening and was given six years probation in Baxter County Circuit Court.
His plea change followed an effort to have evidence suppressed in his case in which he was charged with making death threats directed at a circuit judge and a relative who had custody of his daughter. A ruling from Judge Putman denied the motion to suppress.
A hearing on the motion to suppress evidence was held in mid-February during which Wessels' attorney, Jeremy Friend, contended the alleged threats were made during a visit his client made to the office of another Mountain Home attorney, Emily Reed, and the information should have been confidential and protected.
Reed reported the threats were allegedly directed at then Circuit Court Judge Shawn Womack who approved the issuance of an order of protection against Wessels and his mother-in-law who has custody of his daughter. Womack is now a sitting associate justice of the Arkansas Supreme Court.
According to the probable cause affidavit, Wessels visited Reed's office and during the conversation is said to have told her he intended to handle his legal situation himself by killing everyone associated with his cases -- specifically mentioning Judge Womack and his mother-in-law.
Reed is reported to have said Wessels seemed "distraught and hopeless" because of mounting medical, legal and financial problems and not being able to see his daughter in some time. She reported the threats to authorities and an investigation was undertaken by the Arkansas State Police resulting in charges of terroristic threatening being lodged against Wessels.
WebReadyTM Powered by WireReady® NSI