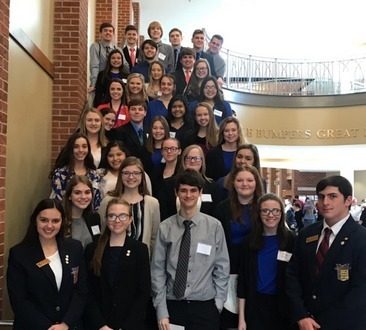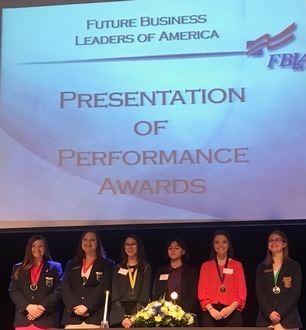 Thirty-three Cotter Future Business of America Chapter members have earned an opportunity to compete at the state level. In addition, junior Paige Clawson has been elected as District VI reporter.
The students earned these honors while attending the District VI Spring Leadership Conference in January on the campus of Arkansas State University-Mountain Home.
Over 600 local students attended the conference to campaign for office and to compete for bids to qualify them for Arkansas FBLA State Leadership Competition in April.
The following list includes chapter member and the places of their respective events:
Aimee Tardiff and Jade Sherill--first place, business ethics
Averee Hutson--first place, Who's Who in FBLA
Charles Rowe--second place, impromptu speaking
Anna Haynes and Jayden Hutchison--second place, publication design
Jeffry Haynes, Hayden Hutson and Zach Altenbaumer--second place, sports and entertainment management
Cole Adams and Cole Stevenson--second place, emerging business issues
Courtney Benedict--second place, electronic career portfolio
Jarod Dewey--second place, future business leader
Colton Jones--third place, introduction to information technology
Hailey Cunningham and Ashley Garay--third place, introduction to business presentation
Gabby Balmer--third place, advertising
Kaylee Middleton, Candy Sanchez, Jasmine Underwood and Cameron Plumlee--third place, parliamentary procedure
Mackenzi Garofalo--fourth place, healthcare administration
Mattie Beavers--fourth place, journalism
Abbi Ewing--fourth place, agribusiness
Tucker Coots, Paige Clawson and Averee Huston--third place, hospitality management
Justin Few and Dylan Dwyer--fourth place, entrepreneurship
Kristen Wilcoxson, Briar Rose Rogers and Candace Lambert--fifth place, marketing
Trevor Reese--fifth place, cyber security
Andrea Kray serves at the FBLA advisor at Cotter High School.
WebReadyTM Powered by WireReady® NSI