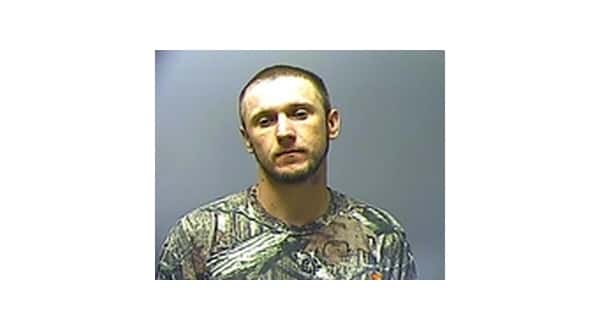 A Baxter County man cited for contempt after a profane outburst during a session of Baxter County Circuit Court in late October last year has now done his time.
Thirty-two-year-old Jeffery Grigg of Norfork was given 100 days in the Baxter County Detention Center by Circuit Judge John Putman for his outburst. The foul language was uttered during a discussion of Grigg's bond on earlier charges. He appeared in court by way of a video hookup from the detention center.
At first, Judge Putman seemed to let the incident pass, but then told the jail staff to put Grigg back on camera. "I want Mr. Grigg, the curser, brought back," the judge said.
After he was sentenced for contempt, Grigg appeared ready to grumble about the decision, but Judge Putman warned if he repeated his prior performance, more jail time would be added.
Grigg was in the detention center on charges he fled from an Arkansas State Police trooper, eventually jumping from his moving vehicle, leaving his girlfriend grabbing for the steering wheel to keep from hitting a fence.
According to the probable cause affidavit, the trooper was patrolling on State Highway 177 in early September last year when he came up behind Grigg's vehicle and observed it weaving and the brake lights coming off and on repeatedly.
The trooper attempted to pull Grigg over, but he did not stop and the trooper pursued him.
The chase continued until Grigg's vehicle reached the intersection of State Highway 177 and Wolf Road. At that point, the trooper reported the driver's side door opened as the vehicle entered a ditch and Grigg jumped out and fled, leaving his girlfriend to fend for herself.
The woman identified Grigg as her boyfriend and the driver of the vehicle. She said when he saw the trooper behind him, he told her he "was not going to jail today" and sped away.
She told the trooper she repeatedly told Grigg not to continue running from the state policeman, or at least to let her out. Instead, he bailed out of the vehicle leaving her to try and steer it.
The trooper noted in his incident report Grigg's actions put the woman in "substantial danger."
Grigg was eventually located and arrested. The jail log maintained by the Baxter County Sheriff's Office shows his booking date as Sept. 26th last year.
According to electronic court records, Grigg is due to reappear April 11th on the charges related to running from the trooper. The charges include felony fleeing, possession of drug paraphernalia and various traffic offenses.
He was released on $10,000 bond.
WebReadyTM Powered by WireReady® NSI