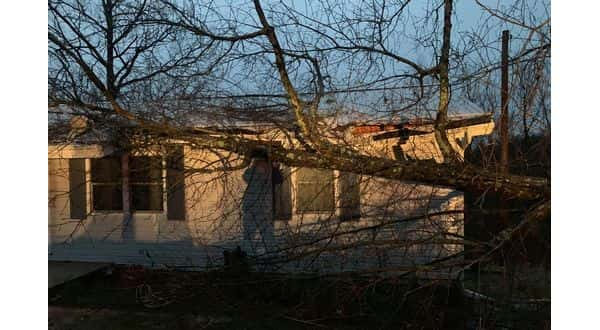 An early morning thunderstorm that prompted a tornado warning for parts of North Central Arkansas has caused damage in southern Marion County, trapping several people in their homes. Stan Duffy is the Marion County Office of Emergency Management Director and says three people were trapped in their homes Thursday morning after trees fell on the houses about 12 miles south of Yellville in the Ralph-Caney area. The storm hit about 4:30, and all three were freed by about 7:30 Thursday morning.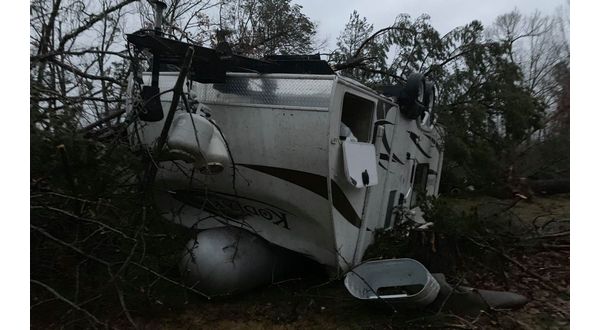 Photos: Courtesy Raymond Benjamin.
State Highway 14 was closed in the area due to a number of trees and power poles and lines that were blown down by the thunderstorm winds. Duffy believes the damage was caused by either a small tornado or a microburst. The National Weather Service in North Little Rock is sending a survey team to the area Thursday to determine the exact cause of the damage.
Duffy says no injuries have been reported.
(Marion County Judge John Massey interviews a victim of the storm damage.)
Marion County judge John Massey says crews including the Marion County Road Department, Marion County Sheriff's Office, Arkansas Department of Transportation, multiple volunteer fire departments and the Arkansas State Police have been working the area to clear roads and assist those with damage.
Storm damage video: Courtesy Marion County OEM Director Stan Duffy.
In Fulton County, OEM Director Mike Harlow says a home and storage buildings on Morriston Road east of Salem were damaged in the storm. Harlow says a woman was alone in the residence, but was not injured. He says he was watching radar at the time of the storm, but saw no indication of a storm capable of this level of damage.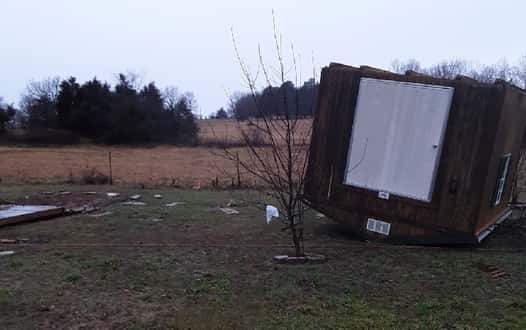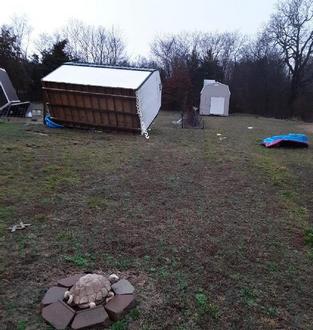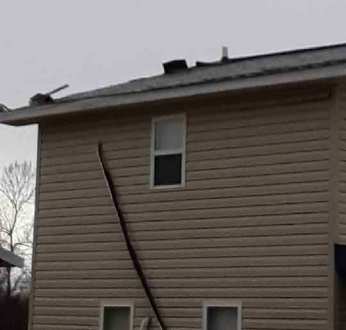 Photos: Courtesy Fulton County OEM Director Mike Harlow.
WebReadyTM Powered by WireReady® NSI