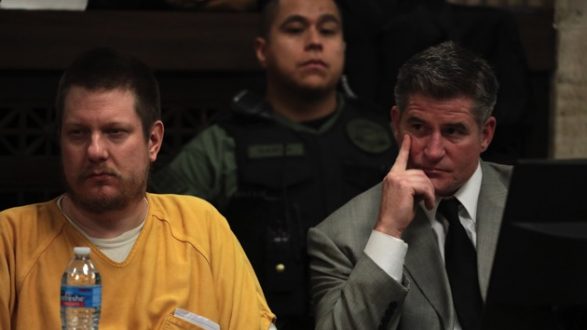 Antonio Perez-Pool/Getty Images(CHICAGO) — Illinois prosecutors are seeking a harsher sentence for a white former Chicago police officer who was convicted of second-degree murder in the 2014 shooting death of an African-American teenager.
The state attorney general and a special prosecutor filed a petition with the state Supreme Court challenging a trial judge's sentencing of Jason Van Dyke to less than seven years in prison for the killing of 17-year-old Laquan McDonald.
"I recognize that a trial judge's discretion in sentencing is to be given great deference," Illinois State Attorney General Kwame Raoul said at a news conference Monday. "However, it is in the interest of justice that we do all within our power to make sure that such exercise in discretion be applied consistent with the mandates of law, no matter who the defendant and no matter who the victim."
On Oct. 5, a Cook County Circuit Court jury found Van Dyke guilty on charges of second-degree murder and 16 counts of aggravated battery with a firearm stemming from an incident in which the former officer fired 16 shots at McDonald in a span of 15 seconds. Judge Vincent Gaughan's sentencing of Van Dyke prompted outrage from McDonald's family and community activists who saw it as far too lenient.
In their filing on Monday in what is called a "mandamus" petition, Raoul and Special Prosecutor Joseph McMahan argued that Cook County Circuit Court Judge Vincent Gaughan erred in sentencing Van Dyke "solely on the second-degree murder conviction" and by declining to impose a sentence on the counts of aggravated battery.
"The People argued that Judge Gaughan was required to sentence Van Dyke on each of the 16 aggravated battery with firearm convictions," according to the petition.
The petition cited the trial testimony of Dr. Ponni Arunkumar, the Cook County medical examiner, that each shot that struck McDonald contributed to his death.
Citing legal precedent, prosecutors argued that Gaughan should have been required to sentence Van Dyke on the 16 counts of aggravated battery with a firearm. The former officer could have faced at least six years in prison on each charge, for a total of 96 years.
"Because the People separately charged each shot and the jury convicted on each count, separate convictions and sentences are required," the petition states.
The prosecutors are asking the state Supreme Court to send the case back to Gaughan for resentencing.
The move by prosecutors prompted Van Dyke's attorneys to file an appeal of his conviction. The defense team has seven days to file a response to the prosecution's petition.
"I think this is politically motivated and I don't think it's an appropriate filing based on the issues at hand," Van Dyke's attorney, Jennifer Blagg, told ABC News on Tuesday. "A mandamus is an extraordinary remedy that should only be used in very unique circumstances and this isn't one of those circumstances."
Blagg said Gaughan relied on case law to render his sentence.
Blagg said the prosecutor's petition "opens a Pandora's box that we were going to leave alone."
"Jason doesn't want a new trial," Blagg said. "He doesn't want to put his family through it again."
She said the Van Dyke's appeal is based on grounds that he should have never been charged with the aggravated battery counts.
"The special prosecutor came on the case and added those charges a very long time after Mr. Van Dyke was originally indicted and we don't think that was proper," Blagg said.
Van Dyke shot McDonald on Oct. 20, 2014. Video released during the investigation showed McDonald was armed with a knife but the teen didn't appear to be moving toward the police officers who responded.
During his trial, Van Dyke testified that he believed McDonald was coming at him with a knife.
"We never lost eye contact. His eyes were bugging out of his face," Van Dyke said. "His face was expressionless. He turned his torso towards me."
He said he told McDonald to drop the knife, but "he never dropped it."
"My focus was just on that knife, and I just wanted him to get rid of that knife," Van Dyke testified.
Copyright © 2019, ABC Radio. All rights reserved.