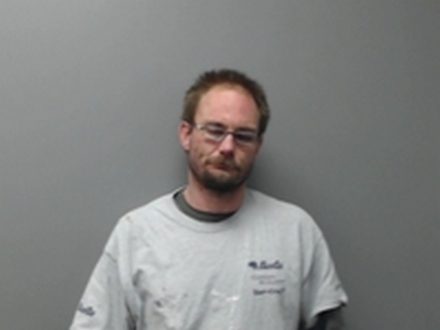 A Gainesville man appearing during a session of Baxter County Circuit Court Thursday to plead guilty to drug-related charges was apparently under the influence of methamphetamine.Thirty-five-year-old Joshua Hannaford appeared to be asleep on his feet while at the podium with his lawyer, Gray Dellinger of Melbourne.
Hannaford has had trouble staying awake before. He was arrested in October 2017, after he was reported slumped over the steering wheel of his vehicle in the Midway area. A Baxter County deputy sheriff went to the scene. Before he could arrive, Hannaford apparently came to and was reported to have wrecked the vehicle a short distance from where he had initially been spotted.
He also faced charges of attempting to bring methamphetamine into the Baxter County jail when he was being booked on charges stemming from the incident at Midway.
Hannaford was pleading to the 2017 charges Thursday.
At one point during the plea taking process, Baxter County Circuit Judge Gordon Webb stopped and asked Hannaford if he was having trouble staying awake. He was also weaving slightly. Judge Webb did continue and complete the sentencing process -- putting Hannaford on four years probation.
Because of his behavior, Hannaford was ordered by Judge Webb to be immediately drug tested at the Arkansas Community Correction office across the street from the court complex. Hannaford was reported to be unable or unwilling to provide a urine sample, but is alleged to have admitted to ACC officers he had used methamphetamine and to have grumbled he did not like "pop quizzes."
When brought back to the courtroom after attempting the drug test, Hannaford seemed to be in worse shape than before, slurring his words so badly he could hardly be understood.
Judge Webb sentenced Hannaford to 60 days in the county jail on a contempt of court charge.
Hannaford appeared to tell the judge if he got jail time, he would lose his job and wanted something worked out to prevent that from happening, but Webb said no. The judge said Hannaford could get in touch with his lawyer and have him raise the issue.
Hannaford, who was said to have driven from Gainesville to Mountain Home for the court appearance in what was believed to have been an impaired condition, was booked into the county jail at 6:18 p.m. Thursday to begin serving his contempt of court sentence.
WebReadyTM Powered by WireReady® NSI