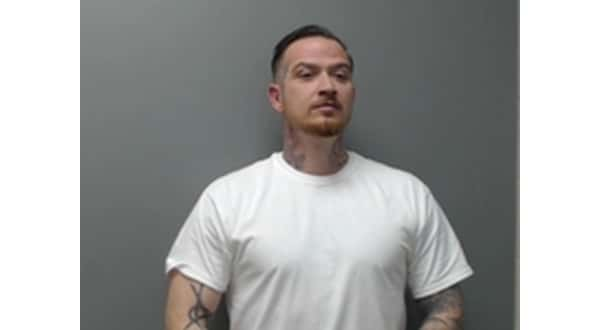 A Fulton County man facing charges stemming from an attempt to smuggle drugs concealed in a Bible to a friend incarcerated in the Baxter County Detention Center and arranging to have contraband furnished to himself while in the jail was back in Baxter County Circuit Court Thursday.
Thirty-three-year-old Kevin Burch was arrested in California and booked into the Baxter County jail in early July last year. A warrant for his arrest in connection with the smuggling effort involving the Bible was active at the time he was picked up.
Burch was one of three people initially charged in the conspiracy to get drugs to inmate Mikel Short, who was in jail awaiting transfer to the state prison system.
In addition to Burch, Short was charged along with his longtime, live-in girlfriend, Cindy Piatt, for participating in the plot. Short and Piatt both received time for being part of the smuggling effort in addition to other, mainly drug-related, charges.
The 47-year-old Short is an inmate in the Northwest Arkansas Work Release Center in Springdale, and the 30-year-old Piatt is being housed in the Wrightsville Unit for women of the state prison system.
According to the probable cause affidavit in Burch's initial case, the Fulton County man was seen on video surveillance footage delivering the Bible to the jail in August 2017. A jail supervisor discovered the contraband items before they were delivered to Short. On inspection, the Bible was found to be the hiding place for a quantity of methamphetamine, marijuana and tobacco in small vacuum-sealed plastic bags.
Burch was not located immediately. At one point, Baxter County Sheriff John Montgomery appealed to anyone knowing Burch's whereabouts to contact the sheriff's office. Burch was eventually located in California and returned to Baxter County.
A new charge was filed against Burch Thursday, in connection with his effort to have items smuggled to him in the jail once he became an inmate following his return from California. Burch is alleged to have used a number of other people -- both inside and outside the detention center -- to help get drugs and other items inside for his use.
One of those outside contacts, 56-year-old Debbie Hall of Salem, identified in court records as Burch's aunt, has already been charged with participating in the conspiracy. She has pled not guilty to the charges against her. The probable cause affidavit in her case has been sealed at the request of prosecutors, because the release of information contained in the affidavit could compromise an ongoing investigation.
In September last year, the state also filed a complaint against Hall and Burch seeking the forfeiture of two vehicles allegedly used in drug-related activity. When the suit was filed, the confiscation report was sent to Hall and Burch at the same address in Salem.
After Burch was jailed for attempting to get drugs to Short, authorities monitored several hours of recorded telephone conversations allegedly between the Fulton County man and the people on the outside, referred to as his "trusted contacts."
Burch was said to have attempted to speak in code during the calls. He was reported to have referred to marijuana, for example, as "Copenhagen wintergreen, poke salad, green, weed" and other names, in an apparent attempt to disguise the actual subject of his conversation.
Court records indicate during recorded telephone calls from the jail, Burch is alleged to have asked for batteries, tobacco, marijuana, black electrical tape, a cellular phone and a number of photographs to be brought to him.
During a search of the jail Aug. 23rd last year, the items he requested through his network were found in his cell.
It is alleged Burch would arrange with his contacts to drop requested items at locations where inmates would be on work detail, and cooperating inmates would retrieve the items and bring them back into the jail for him.
Burch is represented by the James Law Firm in Little Rock.
WebReadyTM Powered by WireReady® NSI