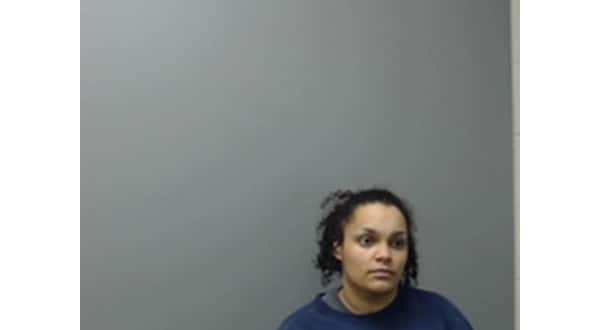 A woman arrested after police were sent to a Mountain Home residence to check on the well being of four young children, finding conditions so bad the children — ranging in age from 2 to 8– were removed from the home, appeared in Baxter County Circuit Court Thursday and had her bond lowered from $50,000 to $10,000.
Twenty-nine-year-old Samantha Simpson and 27-year-old Steven Gauger face a number of drug-related offenses, as well as four counts of endangering the welfare of a minor.
The children are in the custody of the Arkansas Department of Human Services. Simpson and Gauger have been ordered not to have contact with the children, except through the state agency.
Gauger's bond had already been lowered to $10,000.
Simpson told the court she wanted to bond out of jail, get a job, a place to live, and "start working on getting my kids back." As a condition of Simpson's bond, she is required to be drug tested regularly.
When police first went to the home Feb. 20th, they were unsuccessful in making contact with the residents. They tried three times the next day and on the third attempt, Simpson let officers into the home. Simpson said Gauger had barricaded the front door and refused to answer when officers made previous attempts to enter.
She said she had been able to let officers in because Gauger was not at home, having taken his two children to the doctor. Two children were in the residence at the time the police were there.
Officers reported smelling the odor of marijuana as soon as they entered the residence. As they were being taken to a bedroom where the two children still at home were, they saw numerous articles of drug paraphernalia used for the ingestion of methamphetamine and marijuana in plain sight.
According to the probable cause affidavit, the interior of the home was in disarray, with clothes, trash, a pile of dirty dishes and old food on the counters and floor.
The officers found the two children in separate beds and said they appeared to be ill.
Officers said an open purse belonging to Simpson was in the children's bedroom, and they saw suspected marijuana in a glass container in the purse.
After seeing the condition of the children and the home, officers contacted the Department of Human Services and the criminal investigation division of the Mountain Home Police Department. A search warrant was obtained for the property. Investigators said they found more drugs and drug paraphernalia, including 11 bags of marijuana.
Police said glass smoking pipes used to ingest drugs were found in spots accessible to the young children living in the home.
WebReadyTM Powered by WireReady® NSI