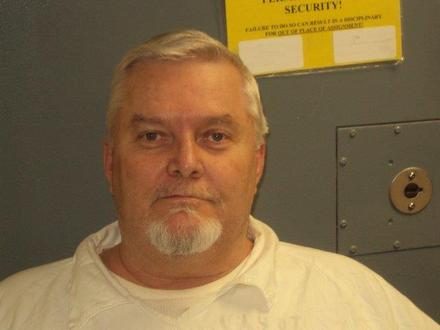 Photo: Rory Gregory
A Mountain Home attorney wants the state official who schedules psychological examinations for criminal defendants to set up one for his client, 57-year-old Rory Gregory, as quickly as possible. The alternative is to appear in Baxter County Circuit Court and show cause why he should not be held in contempt.
The attorney, Ben Burnett, filed a petition this week asking the official, Billy Burris, program coordinator for forensic services at the Arkansas State Hospital in Little Rock, be brought to court to explain why it has taken almost a year to schedule the examination. In his petition, Burnett said a number of hearings have had to be continued because the requested psychological examination has not been completed.
Gregory is serving prison time on prior convictions and faces a long string of new criminal charges stemming from a chase through a wide swath of the city in 2017. The chase involved Gregory and a number of law officers. His new charges include criminal attempt to commit murder, aggravated assault, fleeing, criminal attempt to commit battery in the first degree against a law officer and a number of traffic violations.
Gregory is an inmate in the Ouachita River Unit of the state prison system.
The attorney wrote in his petition the court had ordered Gregory's psychological examination be conducted Thursday, but Burnett said he had just been informed the exam cannot be scheduled until May 7th — 364 days after the issuance of the original court order on May 8th last year.
Circuit Judge John Putman said he would rather see the exam issue worked out short of bringing Burris to court. "He could probably spend all his time running around the state answering contempt charges," the judge said, "I would like for you all to get in touch with Mr. Burris and see if this exam can be scheduled quickly."
Fourteenth Judicial District Prosecuting Attorney David Ethredge was to contact Burris and see what sort of accommodation could be made for Burnett's request. Ethredge said Thursday afternoon the exam has now been set for March 19th.
Burnett told KTLO, Classic Hits and The Boot news he was willing to see what sort of agreement could be worked out with Burris, but if it was unsatisfactory, he would press for a show cause hearing.
Psychological testing for criminal defendants is not the only factor slowing down the trip through the legal system. The Arkansas State Crime Laboratory is also backlogged in completing requested tests, including verification of drugs found on an accused person or his property.
The delay in getting results back is about six months, according to Ethredge.
According to the probable cause affidavit in Gregory's latest case, as he was being pursued through Mountain Home, several people — including law officers — were either narrowly missed or actually hit by Gregory's vehicle. The chase finally ended when Gregory crashed through the entrance of the Cline Emergency Center lobby at Baxter Regional Medical Center.
Immediately before he smashed into the hospital building, Gregory is alleged to have nearly struck a pedestrian and a parked vehicle loading a patient being discharged from the hospital.
Even after the chase ended, the 6-foot, 287 pound Gregory continued to resist arrest and a stun gun had to be used on him twice, before officers were able to get him into handcuffs.
After being subdued, Gregory was taken the short distance to the BRMC emergency room for treatment of injuries he sustained in his collision with the hospital building.
Gregory's past is littered with charges, jail stays and prison sentences. According to court records, he has a significant number of previous felony convictions and has been involved in alleged crimes in a number of Arkansas counties, as well as out-of-state locations, including Bowie County, Texas. His criminal history stretches back to the 1970s when he was a teenager and was charged with the shooting and attempted rape of a Mountain Home woman.
Arkansas Department of Correction records show Gregory serving prison time on convictions from Baxter, Boone and Independence counties. His prison time has come after convictions on crimes including theft of property, forgery, fleeing and second-degree battery. He was on the "most wanted list" maintained by the Baxter County Sheriff's Office in June 2014. He was arrested the same month in Mesquite, Texas.
The last time Gregory was found guilty of a crime in Baxter County was about four years ago, when he faced various charges stemming from an August 2014 incident in which he was accused of trying to run down Mountain Home police officer Larry Caruso.
Caruso had stopped Gregory's vehicle after he saw the truck pull out of a business well past regular operating hours towing a trailer. The officer activated his emergency lights and siren and attempted to pull alongside the truck. Gregory began swerving toward the patrol car, eventually throwing a large crate off the trailer he was towing.
The truck rammed the patrol car on the passenger side, spun around and both vehicles came to a stop. When Caruso approached the vehicle, Gregory attempted to flee the scene. Caruso was able to break out the driver's side window and attempted to reach in and take the truck out of gear. Gregory grabbed Caruso's hand, dragging the officer down the highway. Caruso drew his service revolver and fired one round into the dash of the truck.
The vehicle eventually stopped and Gregory was pulled out. He continued to resist and had to be forcefully restrained.
According to the probable cause affidavit in the case, the crate on the trailer contained a stolen utility vehicle.
Gregory was given 15 years in prison on those charges plus a charge in Boone County. Even with his extensive criminal record, he spent only about 30 months in the state prison system before being paroled — just four months before the chase that resulted in his current charges.
WebReadyTM Powered by WireReady® NSI