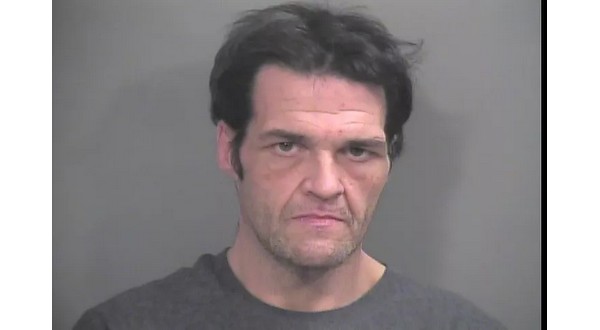 A Midway man who is in legal trouble in three Arkansas Counties -- including Baxter -- has pled guilty to charges in Washington County where he is accused of having inappropriate sexual contact with his brother's 12-year-old daughter on Christmas Eve 2017.According to court records, 46-year-old Raymond Scott Chappell entered a guilty plea to second-degree sexual assault in Washington County Circuit Court March 19th and was sentenced to 12 years in prison, followed by eight years of probation. He will also be required to register as a sex offender and to have no contact with his young victim.
Chappell was arrested Christmas Day 2017 when a Fayetteville police officer responded to a sexual assault call.
The officer met with Chappell's brother who said his sibling had "confessed" to inappropriately touching his daughter on the night before Christmas.
Chappell had earlier told police he did not think he did what his brother and the brother's child alleged. He has admitted he was high on methamphetamine at the time, but says he was certain he would have remembered inappropriately touching his niece, "if I had done it."
In the Washington County case, Chappell underwent a mental evaluation and was found fit to proceed and capable of being held criminally responsible for his actions.
The Baxter County charges against Chappell are drug-related, including allegations he attempted to bring pills into the county jail following his arrest in September last year. While he was being booked, a jailer found a small plastic bag in his sock containing the two pills -- both were found to be controlled substances.
Chappell's luck didn't get any better while in the detention center. Shortly after he was booked, three inmates were reported to have attacked him, sending him to Baxter Regional Medical Center for treatment of a head injury. The motive for the attack, which came while Chappell was sleeping, was not explained.
Chappell is scheduled to reappear in Baxter County Circuit Court in early May.
In Izard County, Chappell's charges stem from an incident in late February last year when he and David Taylor of Mountain Home were caught outside a home along Highway 56 in Calico Rock.
The resident said she awoke to a "banging" outside her house and found the electricity had been shut off. She looked out her window and saw two men in her yard. When she confronted the pair and asked them what they doing on her property, they said they were looking for people who owed Chappell money and thought they might be in the residence.
They pointed to a truck in the yard and said it belonged to one of the people they were seeking. The homeowner said they were lying, since the vehicle belonged to her son.
When an Izard County deputy sheriff arrived, it was discovered property on the outside of the residence had been disturbed, including a toolbox found open with its contents strewn about. The deputy asked the men why they had been banging on the house and tampering with the homeowner's property. Chappell said they had taken the actions in an attempt to draw the mysterious couple outside to talk about the money they owed him.
The homeowner told the deputy she had no idea who Chappell and Taylor were taking about.
Chappell and Taylor were arrested and charged with criminal trespass, criminal mischief and possession of methamphetamine and drug paraphernalia.
In Chappell's Izard County case, a mental evaluation has also been requested.
WebReadyTM Powered by WireReady® NSI