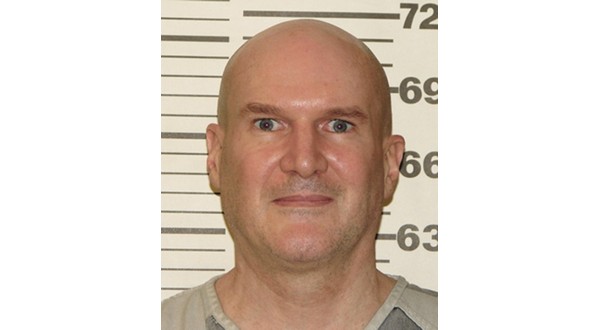 Photo: Courtesy of Ozark County Times.
Over two years after being convicted of assault and trespassing, a Gainesville man learned his fate last week. According to the Ozark County Times, 47-year-old Matthew Taber was sentenced April 8th by Associate Judge Elizabeth Bock to 15 years in prison and ordered to pay $10,000 in restitution to his victim, Edward "Dean" Dossett.
Taber was found guilty by an Ozark County jury of first-degree assault and first-degree trespassing in January 2017. He was charged in connection with the serious assault of Dossett in November 2013.
The case was first filed in August 2014 before previous Associate Judge Cynthia MacPherson and transferred nearly two months later to Ozark County Circuit Court before Judge Craig Carter. A motion for a change of judge and venue was immediately filed, and the case was transferred to Wright County with Judge Bock assigned to the case.
A jury trial was scheduled for July 2015, but the day the jury pool was gathered, Judge Bock declared a mistrial "due to manifest necessity" because Taber appeared to arrive at the courthouse impaired. His blood alcohol content reading was .24, and he was unable to produce a drug test. Taber was taken into custody, and his bond was revoked.
A motion hearing was held the following month, and Taber informed the court he was looking to fire his public defender and hire a private attorney. A mental evaluation was administered in September 2015 under Judge Bock's order, and Taber was declared incompetent to proceed and later committed to the Missouri Department of Mental Health.
In April 2016, the Mental Health Department sent a letter to the court with a psychiatric evaluation indicating Taber was again fit to proceed to trial. The next month, a jury trial was set to begin Nov. 7th, 2016 in Wright County. However, a joint stipulation between the prosecutors and the defense in September indicated a change of venue back to Ozark County, and another jury trial was scheduled to begin Jan. 9th, 2017.
The trial lasted two days, and after deliberating for an hour and 43 minutes, the jury returned with a guilty verdict on the assault and trespassing charges. A sentencing hearing was set for March 20th, 2017, but another notice of competency issue was filed a month earlier. When he appeared for sentencing, Taber was ordered for another competency evaluation, and his attorneys filed a motion for a new trial.
The evaluation was filed in August 2017, and at a hearing nearly two months later, Taber was again deemed incompetent to proceed and committed to the Mental Health Department. A competency exam was received just over two months ago, and Taber appeared for another hearing March 18th. Judge Bock said she found credible evidence he was again fit to proceed, and he was competent during the jury trial.
Judge Bock ordered Taber to serve at least 85 percent of his sentence. He'll be eligible for parole in nearly 13 years.
WebReadyTM Powered by WireReady® NSI