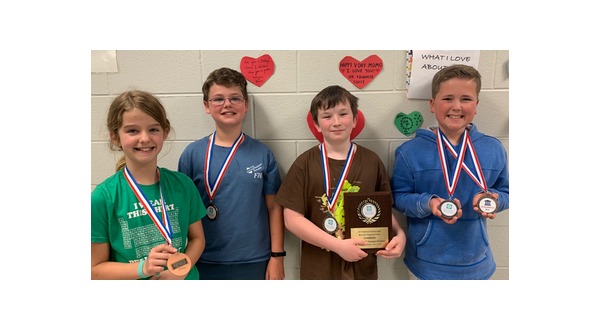 Several students from Mountain Home excelled in a recent major academic competition in Memphis. The competition was the regional qualifier for the National Science Bee and the US Academic Bee.
The students who competed were Lillyann Higley and Devyn Prins, both sixth grade Pinkston Middle School students; Kohler Matthews, Declan Whitlock, Zac Rowden, Jack Coleman and Dylan Prins, all fifth grade Hackler Intermediate students; and Savannah Matthews, a fourth grade Hackler student. All of these competitors had earned their place to participate in this Mid-South area regional final by scoring high marks on what is considered a difficult online exam in January.
Mountain Home students dominated the competition, taking four of the top 10 spots in the Science Bee, sweeping first through third place in the Academic Bee, and qualifying four students to participate in the National History Bee.
Declan Whitlock, a fifth grade student at Hackler took first place in all three events. Whitlock says his favorite part of the day-long competition was when the final for the Academic Bee students were announced–all of the finalists were from Mountain Home.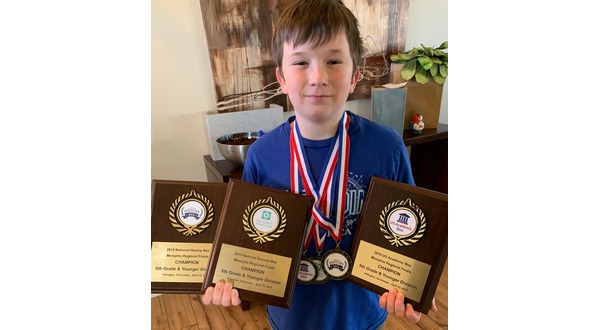 All of the qualifiers will be traveling to Chicago in June to face off against the top students from around the country. One of the qualifying students, Dylan Prins, scored such high marks in the preliminary rounds of the National History Bee competition that he qualified for the International History Bee in 2020, where he will face off with competitors from all over the world.
The team is coached by Lee-Ann Whitlock through the Mountain Home Quiz Bowl Club. Whitlock reports, "This was our first year participating in these competitions, and even though we have been practicing since last spring, I wasn't sure how our students would fare against competitors from such big metro areas. I am so proud of how well they all did, and I can't wait to see how them all compete in Chicago this summer."
Jack Coleman, who took second place in his age division in the Science Bee and third place in the Academic Bee, reports he studied the periodic table all the way home from Memphis to prepare for the Nationals in June.
Lilly Higley also qualified in two events, the Academic Bee and the National History Bee. Highley has resolved to learn more American history to be ready for the next level of competition.
Also qualifying to compete at nationals in more than one event was Kohler Matthews, who placed in both science and history. His sister Savannah Matthews also qualified for the National Science Bee finals, despite being one of the only fourth grade students in the entire regional competition.
The Mountain Home Quiz Bowl Club will be fundraising to help defray the costs of traveling to these national competitions in June.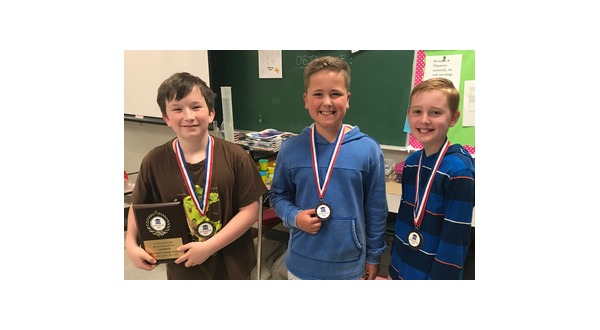 WebReadyTM Powered by WireReady® NSI