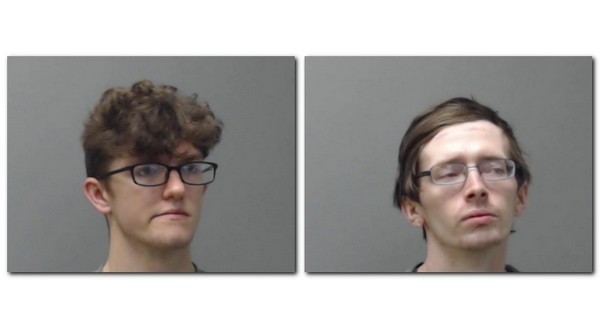 Photos: Michael Thorne and Dakota Drzka
Two suspects accused of multiple car break-ins have been identified as Mountain Home residents and are currently in the Baxter County Detention Center. According to Baxter County Sheriff John Montgomery, 22-year-old Dakota Drzka and 19-year-old Michael Thorne are each facing 23 felony counts and 12 misdemeanors.
Baxter County deputies took multiple reports Thursday and Friday of vehicles broken into on the north part of Mountain Home in the overnight hours. All vehicles but one were located in the driveways of the victims' residences, and all were left unlocked.
Investigators received video showing two suspects from one of the victims. Investigators later discovered an attempt to use one of the victims' credit cards at a local business. On Friday, surveillance footage was obtained, and the pictures were uploaded to the Most Wanted Page at baxtercountysheriff.com and shared by several individuals. Sheriff Montgomery says his office received several tips on the suspects' identities within 30 minutes of posting the pictures.
The first suspect, identified as Drzka, was arrested Friday at his place of employment. During an interview with sheriff's investigators, Drzka allegedly admitted to his role in the break-ins and thefts. Thorne later turned himself around 11:45 Friday night. He reportedly said he decided to arrive at the detention center after seeing his picture online, but he refused to talk with investigators.
Drzka and Thorne are each charged with 14 felony counts of breaking or entering, four felony counts of theft of property (credit cards), three felony counts of forgery, one felony count each of theft of property and criminal mischief, eight misdemeanor counts of theft of property and four misdemeanor counts of criminal mischief. Both are being held on $25,000 bond pending their appearance in Baxter County Circuit Court, and the investigation is continuing with more charges possible by Baxter County and the Mountain Home Police Department.
WebReadyTM Powered by WireReady® NSI