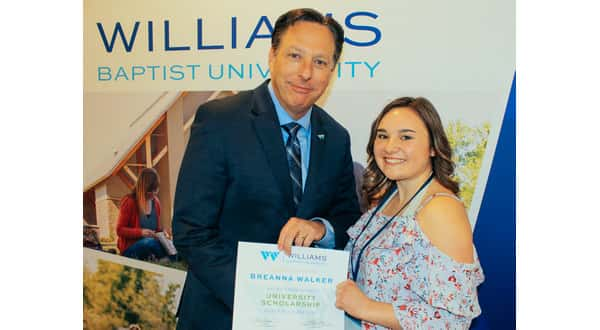 Photo: Breanna Walker with Dr. Stan Norman.
Viola student Breanna Walker has officially enrolled at Williams Baptist University in Walnut Ridge. Her enrollment was part of a special ceremony known as VIP Registration.
Walker shook the hand of Williams President Dr. Stan Norman as she received her academic scholarship to WBU, a reward 12 years in the making.
Walker is the daughter of Dustin and Carol Wright. Following her academic recognition, Walker officially enrolled for the upcoming fall semester, creating her class schedule and receiving her student ID.
Norman addressed the incoming students, saying, "You'll own multiple cars, you'll probably own multiple homes, but you'll only get one education. Just one. Education is not a commodity, it's an investment."
He went on to add, "You're going to make some of the biggest decisions of your life over the next four years, decisions that can even have an effect on your great-grandchildren. This is an investment that makes a difference."
Approximately 40 incoming WBU freshman traveled to the Walnut Ridge campus for the VIP event.
Angela Flippo, vice president for enrollment management, noted, "WBU is thrilled to be entrusted with Breanna over the next four years. We are committed to helping her launch her life with purpose."
Williams is a private, Christian university in Walnut Ridge.
WebReadyTM Powered by WireReady® NSI