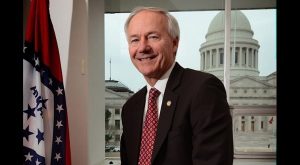 I'd like to talk about the National Computer Science Summit for State Leaders that we are hosting in Little Rock in a couple of weeks. This is the first summit of its type in the nation. We have invited leaders in the field to discuss a range of topics, including academic standards, teacher training, and the development of computer-science education initiatives in every state.
The keynote speaker is Hadi Partovi, who is a leader in the coding movement in the United States and the co-founder with his twin brother, Ali, of Code.org. I'll also be joined by Governor Kim Reynolds of Iowa.
Code.org has recognized Arkansas as a national leader in computer science education. Hadi and Ali are two of the biggest proponents of teaching students to code. Their goal is for every school in the United States to offer computer science courses. The story of their success at a young age affirms that our initiative to promote computer-science education is the right thing to do.
Hadi and Ali were born in Tehran in 1972, eight years before the Iran-Iraq war began. Hadi taught himself to code at home on a Commodore 64 computer because his school didn't offer a course.
After the family moved to the United States, Hadi used his self-taught skills to work summers as a software engineer. The brothers both graduated from Harvard. Hadi says their computer-science education gave them the skills to launch their many successful endeavors. He says that being good at computer programming was a direct path to their success.
This summit will give us access to national leaders in the field, and it will allow us to showcase what we are doing in Arkansas.
We just wrapped up the third Governor's Coding Competition, which is one way we are promoting coding, and the competition is one way we demonstrate our coding talent.
The team of Karsen Beck, Noah Raby, and William Shaver from the Arkansas School for Mathematics, Sciences, and the Arts took first place. The teams of Bradley Baltz, Lucas Jaggernauth, and Austin Parker, and Owen Bell, Julian Sanker, and Daniel Whitmire, from Haas Hall Academy in Rogers and Fayetteville, won second and third place.
The increasing number of schools that compete each year and the caliber of their competitors shows that coding is catching on all over Arkansas. Our students and educators understand that computer science is a key to a great future for themselves and for our state.
Students such as these, who have embraced the opportunity to learn coding, are the reason our state has caught the eye and earned the praise of people such as Hadi and his organization, Code.org.
I am confident that there are young people such as Hadi and Ali all over Arkansas who already are developing ideas and products. Our job as leaders and educators is to make sure they have every chance to do just that. This is what this summit is about.
WebReadyTM Powered by WireReady® NSI