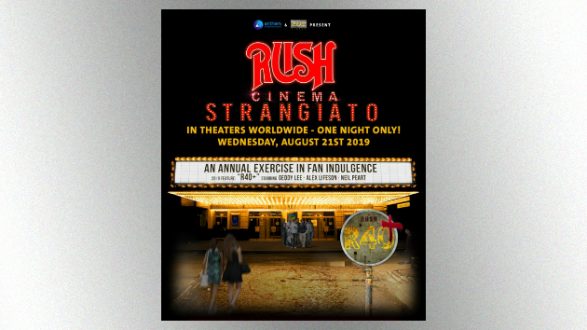 Courtesy of Trafalgar ReleasingA special Rush screening event and fan gathering called Cinema Strangiato will take place on August 21 at select theaters around the world, uDiscoverMusic reports.
Billed as "Annual Exercise in Fan Indulgence," the event will offer a screening of R40+, a movie featuring highlights from the 2015 concert film R40 Live, plus previously unseen behind-the-scenes and soundcheck footage, as well as new interviews with The Smashing Pumpkins' Billy Corgan, Foo Fighters' Taylor Hawkins, Rage Against the Machine's Tom Morello, Rush producer Nick Raskulinecz and others.
R40 Live features performances filmed in 2015 at a number of stops on Rush's 40th anniversary trek, which turned out to be the band's farewell tour.
The Cinema Strangiato event also will include a short documentary offering a glimpse into the making of Geddy Lee's new book, Geddy Lee's Big Beautiful Book of Bass, which features a new interview with the Rush frontman.
"I'm excited for fans to see some new clips from our R40 tour," says Lee, "but also a peek behind the scenes of making the Big Beautiful Book of Bass."
In other news, Geddy currently is promoting his book on an in-store signing tour of Europe. Visit Rush.com for more details.
Copyright © 2019, ABC Radio. All rights reserved.