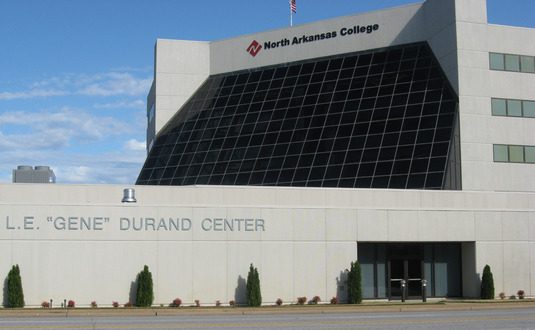 The North Arkansas College Center Campus, formerly Regions Bank, located at 303 North Main in Harrison is for sale.Last August, mold was discovered in the tower causing employees to be evacuated to other locations. College officials examined a variety of options to preserve the building, but found the cost of repairs would exceed the value of the building. Estimates for repairs ranged from $4-10M.
College officials moved forward with the understanding the Durand Center could be owned only by a government entity, prompting Northark to offer the tower side for sale last spring. No offers were received.The college has since discovered the entire property could be sold to either government or non-government entities. This includes the tower, the Durand Center, the connecting atrium and the immediate parking, located on a 2.6 acre site.Dr. Randy Esters, Northark's president, has been managing the situation.
Dr. Esters says, "This has not been a fun or an easy process." He says he is hopeful officials are near a resolution that will benefit the college and the community as a whole.
The Request for Proposals on Northark's website Northark Vendor Information under Vendor Information includes special terms and conditions.
According to the Request for Proposals, offers can be submitted until June 25.
If no acceptable offers are received for the entire parcel, plans to demolish the tower will move forward, and the Durand Center will be considered separately.
Esters told the Board of Trustees at the June meeting, "Northark currently spends around $300K per year on Durand Center operations. When the convention and meeting spaces were part of a larger, center campus operation, it served as a community enrichment function for the college. As a stand-alone convention space however, it does not fit our mission as a college."
WebReadyTM Powered by WireReady® NSI