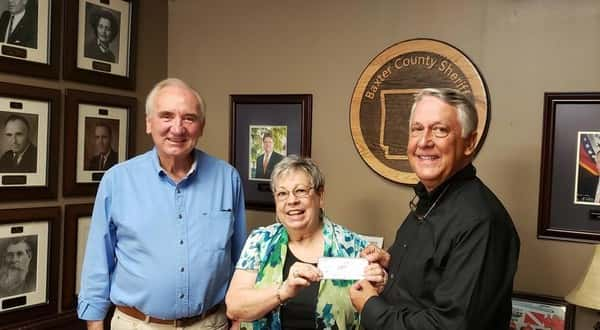 Photo: Shirley Walters with Baxter County Sheriff's Foundation Board members Steve Luelf (left) and T.C. Carter (right).
The Baxter County Sheriff's Association is the recipient of two donations. According to Sheriff John Montgomery, Shirley and Larry Walters and the Baxter County Sheriff's Foundation have provided funds for two vending machines for the Reserve Association.
One vending machine will be placed at the Baxter County Detention Center's visitor entrance, and the other will be inside the main office. Both machines will be supplied and managed by the reserve deputies, and all profits will be used to support the reserve association.
The sheriff's office has nearly 25 reserve deputies providing volunteer time to perform support duties ranging from transporting to overseeing inmates working on clean-up projects for local non-profits.
The Baxter County Sheriff's Reserve Association and the Baxter County Sheriff's Foundation are both 501(c)(3) non-profit organizations. The sheriff's foundation provides public-spirited citizens with an avenue to contribute to professional and personal success of the sheriff's office and its employees and seeks ways to expand, enhance and sustain public safety services to the citizens of Baxter County by providing financial support beyond the scope of the sheriff's office normal operating budget.
For more information or to leave a legacy of public safety, go online to baxtercountysherifffoundation.org, or contact Sheriff Montgomery or Captain Jeff Lewis at 870-425-7000.
WebReadyTM Powered by WireReady® NSI