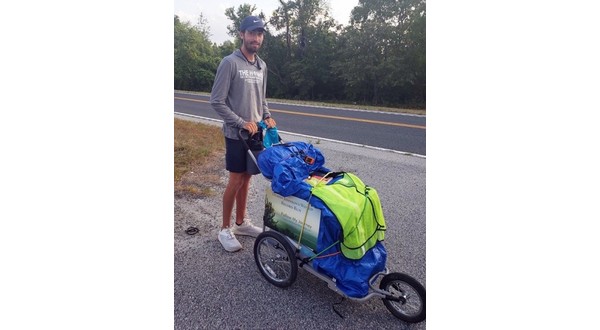 Photo: Courtesy Ozark County Times.
A former Ozark County resident is looking to become history's first American to circumnavigate the globe by running. If Dustin Johnson is successful, the 2013 Dora High School graduate will also be the youngest, the fastest 20- to 29-year-old and the fastest overall to complete a 16,300-mile journey across four continents. Johnson is also looking to become the first to complete the trip without any support crew following him.
According to the Ozark County Times, Johnson is a veteran of the United States Navy dedicating his world run to bringing positive awareness to military and veteran suicide. He is teaming up with Stop Soldier Suicide, a veteran-led non-profit organization, to spread the word and help prevent military and veteran suicide, currently estimated at 22 per day in country.
Johnson began his journey May 1 in the Southeast Missouri town of Benton and ran over 930 miles to Myrtle Beach, South Carolina. From there, he caught the first of two flights taking him to Lima, Peru. In his June 24 blog post from Peru, Johnson said he completed just over 1,378 miles.
Johnson plans to run 3,200 miles across South America before flying to Portugal for a 4,000-mile run across Europe. He'll run another 3,500 miles across Australia and 1,000 miles in New Zealand. Johnson will then fly to Alaska and conclude his journey by running 4,000 miles back to his current residence in Lambert, Missouri. He told a Myrtle Beach television station he is looking to finish his run by Christmas of next year.
To follow Johnson's journey, join the "Dustin Johnson's World Record Run" group on Facebook. Donations to support his efforts can be sent to his Paypal account with the email worldrun.djohnson@gmail.com, and t-shirts are available for sale through the Facebook account to help with his food and personal expenses. For help or more information about the Stop Soldier Suicide organization, call toll-free 844-889-5610, or go online to stopsoldiersuicide.org.
WebReadyTM Powered by WireReady® NSI