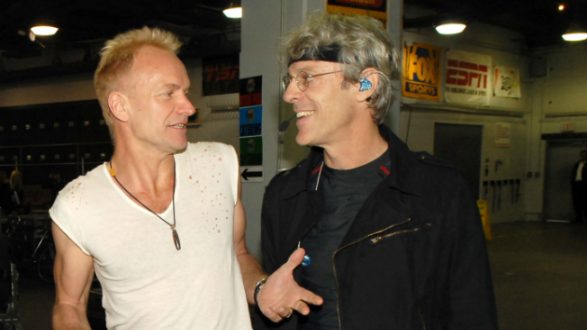 Sting and Stewart Copeland in 2007 (Kevin Mazur/WireImage)
Police drummer Stewart Copeland says he recently reunited with his old band mate Sting — not for a new recording project, but for an upcoming documentary series he's doing for the BBC.
Copeland tells ABC Radio that Sting was one of several music artists with whom he conducted in-depth interviews for the program, which is titled What Is Music and Why?
The 67-year-old Rock & Roll Hall of Famer says the three-part series is "not [about] musicians or the history of music. It's about the deeply ingrained trait of music in homo sapiens."
He further explains about the program's theme, "What is [music's] evolutionary purpose? Why is it that it can force us to get up and thrust our [genitals] at each other in an overt sexual display, in public? Rembrandt can't do that, Shakespeare doesn't make us dance, but music does."
Regarding his Sting interview, Copeland says, "Yeah, I nailed that guy down. It was fun because we've never had this conversation."
Other notable people who chatted at length with Stewart for the series include Patti Smith, jazz singer Bobby McFerrin and minimalist composer Steve Reich, as well as director Francis Ford Coppola and psychologist/author Steve Pinker.
"All these people, if I were to meet them at a party, a dinner party or something, you'd sort of chat amiably," Stewart maintains, "but in this circumstance, I'm able to grill down on these folks for two hours."
According to Billboard, What Is Music and Why? will premiere next year on BBC television. Copeland tells ABC Radio that the series also likely will eventually air in the U.S.
Meanwhile, Everyone Stares: The Police Inside Out, the 2006 documentary featuring Super 8 footage that Stewart shot during his band's heyday, recently got its debut Blu-ray and digital release.
Copyright © 2019, ABC Radio. All rights reserved.