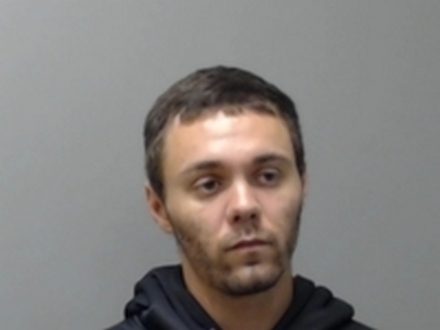 Photo: Tanner Ray Sebold
A 24-year-old man who lists addresses in both Yellville and Mountain Home has picked up 14 felony charges since May, including two carrying a maximum penalty of life in prison.
Tanner Ray Sebold was in Baxter County Circuit Court Thursday where he pled not guilty to the newest charges filed against him and was ordered to reappear Dec. 14.
Sebold began picking up criminal charges in May, with the latest filed late last month. His charges include two Class Y felonies – simultaneous possession of drugs and firearms — the most serious crime classification in Arkansas not punishable by death.
Oct. 30 – Officers conducted a search of a room at the Executive Inn as part of an investigation into stolen handguns. According to the probable cause affidavit, Sebold was found in the room. He had in his possession two small plastic bags containing a white crystalline substance and a glass smoking pipe. Police also found a handgun reported as stolen in Sebold's pants pocket. He was charged with simultaneous possession of drugs and firearms, possession of methamphetamine and drug paraphernalia and theft by receiving.
Sept. 24 – A Mountain Home Police Department officer stopped a pickup truck on Ninth Street for a minor traffic infraction. Sebold was listed as a passenger. During the stop two other MHPD officers arrived on scene. When Sebold got out of the vehicle, officers saw a loaded revolver at his feet. Another gun was located in the pickup. It was reported to have been defaced making the serial numbers almost unreadable. The driver of the truck, identified as 28-year-old Jessica Raymond, had her 2-year-old daughter with her. The Department of Human Services took custody of the child. Another passenger was reported to have been 24-year-old Kendrick Sebree. Sebold's charges stemming from the traffic stop include simultaneous possession of drugs and firearms, possession of a defaced firearm, possession of methamphetamine and drug paraphernalia.

Photos: Jessica Raymond and Kendrick Sebree
According to court records, the only occupant of the truck who had not faced mainly drug-related felony charges was the 2-year-old.
Aug. 29 – Officers interviewed a woman at Baxter Regional Medical Center who said Sebold was her boyfriend. She said he had been verbally abusive since the first of the year, and the abuse had recently turned physical. According to the probable cause affidavit, the victim, who said at the time she was 12-weeks pregnant with Sebold's child, reported he had tried to hit her in the stomach, choked her several times, hit her in the face with his fist and slammed car doors on her. She said Sebold had told her to kill herself. The woman's 4-year-old son lives in the home and the victim allegedly said Sebold had been verbally abusive to the boy calling him stupid and retarded. Sebold was accused of slapping the 4-year-old "hard" on the back of the head because he was being a "picky eater." The woman said she went to the aid of her son and was beaten by her boyfriend. The victim told investigators from the beginning she did not want charges brought against Sebold. The officer took the information to prosecutors, and it was decided to file two felony counts of second-degree domestic battering against him. The woman has made other attempts to have the charges dropped. She wrote a statement Sept. 17 asking a no contact order be lifted because "We would like to move forward with our lives and our growing family."
May 11 – The Pokémon arrest was the first in the Sebold series. He was initially stopped by an Arkansas State Police trooper for driving without headlights. The trooper reported when he approached the vehicle, Sebold "immediately started explaining to me he was just looking for Pokémon." Sebold may have been referring to Pokémon Go, a popular game where players use the GPS data and clock in their cellphones to show Pokémon characters in the player's current physical location. The characters can be captured by firing a "poke ball." The trooper quickly found out Sebold had a suspended driver's license and two outstanding arrest warrants. The trooper said he could also smell marijuana, and Sebold admitted he had "smoked about four hours ago." As a result of the traffic stop, Sebold was charged with possession of methamphetamine and cocaine, possession of an instrument of crime and a number of misdemeanors, including possessing a small amount of marijuana, driving without headlights and drunk driving/drugs.
Sebold's bond to cover all four cases is set at $25,000.
WebReadyTM Powered by WireReady® NSI