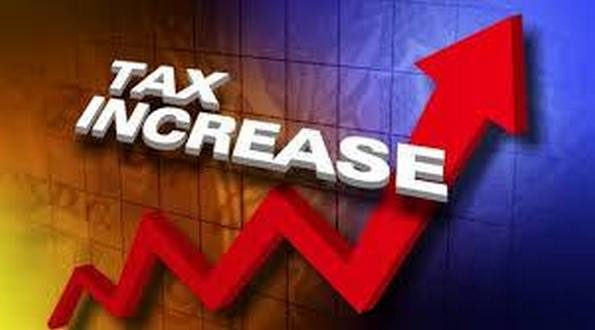 A prediction Baxter County Judge Mickey Pendergrass made last month on the eve of the first budget preparation meeting for 2020 is moving forward with a proposal to raise the taxing rate for personal and real property by 2 mills. The rate now stands at 0.8 of a mill.
The proposal is part of an appropriation ordinance the quorum court will consider Tuesday evening when it levies millage rates for 2019 to be collected in 2020. The ordinance covers rates for cities, school districts, fire districts, improvement districts and the county, including the library and Arkansas State University-Mountain Home. All other proposed taxing rates remain at their current levels.
In an earlier interview with KTLO, Classic Hits and The Boot news, Judge Pendergrass said the voter mandated raise in the minimum wage and federal adjustments to the Fair Labor Standards Act (FSLA) are two of the factors leading to the proposed tax hike. The county is also contending with soaring health insurance costs.
The minimum wage increase was approved by voters in 2018. With the passage of Issue 5, Arkansas's minimum hourly wage increased to $9.25 last January and will increase to $10 next Jan. 1 and to $11 on Jan. 1, 2021.
The second cost driver is a federal government mandate increasing the minimum salary threshold to qualify for exemption from the overtime provisions of the FLSA.
The proposed tax hike comes after voters approved a one-quarter cent on-going sales tax in 2018 for the operation of the county jail. The new revenue stream is generating in excess of $1 million annually, costs previously covered through the county's general fund.
Pendergrass says examining the county's finances after funds were no longer needed for the operation of the jail, revealed dollars now available were needed to cover the costs of expenses that had been delayed, particularly with projects.
Not having to cover jail operation costs did not position the county for new mandates and future needs.
He says it is estimated the increased millage will generate about $1 million annually.
But he cautions raising the millage rate may not resolve the problems Baxter and all other counties are facing.

Listen:


Judge Pendergrass says budgeting is tough every year, as officials grapple with delivering services, maintaining facilities and meeting the needs of the county's employees.

Listen:


The quorum court will meet at 6 Tuesday evening in the courtroom of the Baxter County Courthouse.
WebReadyTM Powered by WireReady® NSI