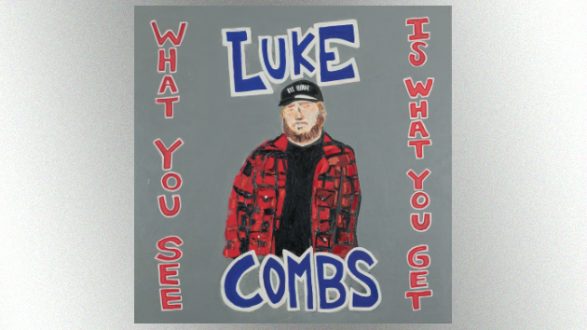 River House Artists/Columbia NashvilleWhat You See Is What You Get, Luke Combs' much-anticipated second album, comes out today, as its latest single, "Even Though I'm Leaving," sits at number two on the country chart.
The North Carolina native's sophomore effort contains several high-profile collaborations: "Does to Me" with Eric Church, and "1, 2 Many" with Brooks & Dunn.
"I love those guys," Luke says. "Kix and Ronnie have been heroes of mine as long as I can remember pretty much. And, you know, having the opportunity to do the REBOOT [album] with them was really cool."
"And I had always kind of thought that ['1, 2 Many'] was something that sounded a little bit similar to some of their early stuff, and all their stuff in general, really," he adds. "So… it made a lot of sense to ask them to do that. And they were more than happy to… and that was a big-time honor for sure."
Next Wednesday, Luke has a chance to take home another "big-time honor" with his heroes. Luke and Brooks & Dunn are nominated for Musical Event of the Year for re-imagining the classic "Brand New Man" for REBOOT.
Luke admits winning a CMA Award with the Country Music Hall of Famers would mean a lot to him.
"Man, I mean, that'd be pretty tough!" he says excitedly. "I'm not gonna lie. You know, that would be great to see, and great to be a part of, without a doubt."
Luke's currently the reigning CMA New Artist of the Year. He's also up for Male Vocalist and Song of the Year for "Beautiful Crazy" at the 2019 awards.
Tune in to see who wins Wednesday at 8 p.m. ET on ABC.
Copyright © 2019, ABC Audio. All rights reserved.