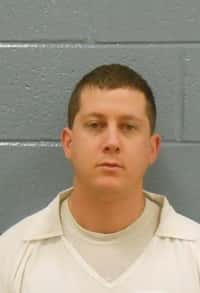 Photo: Cody Robert Whitten
An inmate in the state prison at Calico Rock facing a new felony charge accusing him of engaging in a smuggling operation tied to Mountain Home work details was in Baxter County Circuit Court Thursday. Specifically, 32-year-old Cody Robert Whitten of Ozark is accused of securing contraband items while on work details in Mountain Home and bringing them into the prison. He pled not guilty to the new charge.
Whitten entered the prison system in August 2017 after being sentenced to 35 years for shooting a man in the head and killing him.
The shooting occurred in August 2016. Initially, Whitten did not deny he was involved in the shooting, but told several stories of how the victim was shot and killed.
While an inmate in the North Central Unit at Calico Rock, Whitten was assigned to a work crew responsible for cleaning city-owned park property in Mountain Home.
Prison officials received information that contraband was being brought into the facility by inmates working in Mountain Home.
In late October, corrections officers searched areas accessible to the work crew. They discovered a large number of items in a shed used by the prisoners, including cellphones, chargers for cellphones, five individually wrapped bundles of smokeless tobacco and a full can of smokeless tobacco.
All of the items were concealed in two portable water containers.
During questioning, Whitten allegedly admitted to ownership of all the items and told investigators another inmate who had been working with him on the day the items were found was not involved in his contraband operation.
Whitten is said to have admitted he used the cellphones to set up "tobacco drops." He said he brought the contraband inside the prison and sold it to other inmates in order to provide him with the ability to purchase more items from the commissary.
There is no elaboration as to how Whitten was able to bring the contraband past guards at the prison when returning from work assignments.
Whitten said he had an unidentified person bring the cellphone to him at an area where he was working. He said he then used the phone to contact the unnamed individual to arrange the tobacco drops.
The other inmate told investigators Whitten apologized to him on the way back to the prison for getting the man in trouble over something he had nothing to do with.
In addition to new criminal charge, Whitten has been cited for major disciplinary violations at the prison involving the possession or manufacture of contraband.
WebReadyTM Powered by WireReady® NSI