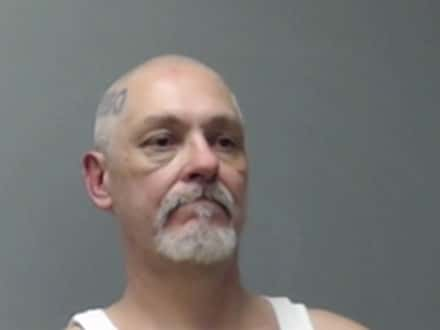 Photo: James John Seawell
A 51-year-old Baxter County man who allegedly rode into the Mountain Home Walmart on a bicycle Wednesday evening and exchanged it for a new one before riding it out while claiming to be a police officer has been arrested.
The incident at Walmart was one of two Wednesday evening involving James John Seawell of Mountain Home and law enforcement.
Seawell was arrested after the second incident and has been charged with criminal impersonation in the first degree, a felony, along with misdemeanor counts of theft of property, resisting arrest and fleeing on foot. He remains jailed in the Baxter County Detention Center on a $5,000 bond.
According to the probable cause affidavit filed in the case, shortly before 6 p.m., authorities received a call from asset protection of Walmart reporting a man, later identified as Seawell, had entered the store and stolen a bicycle.
A Mountain Home Police Department (MHPD) officer responding to the call was informed a man wearing a black T-shirt with the word "POLICE" on it had entered the store on a bicycle. The man allegedly rode the bike to the rear of the store where the new bicycles are kept, took a bike off the rack, removed the tags and began to ride out of the store.
As employees attempted to confront Seawell, he allegedly called out "he was the police." An asset protection officer attempted to stop Seawell, who exited the store and rode off on the bicycle toward Buzzard Roost Cutoff.
At approximately 7 p.m., MHPD officers were on an unrelated call at Baxter Regional Medical Center when they noticed a man standing outside the emergency room (ER) entrance matching the exact description of the Walmart subject.
One of the officers approached Seawell and asked to speak to him, but the Mountain Home man responded he needed to go to the ER and began to run into the hospital. One of the officers grabbed the suspect by the back of the shirt, but Seawell continued to resist and attempted to flee.
The affidavit says the officers took the man to the ground with "the least amount of force necessary" to subdue him.
An unsuccessful search of the area was conducted for the stolen bicycle. Authorities did located a BB gun and the black "POLICE" T-shirt the suspect was allegedly wearing. Those items were confiscated and logged into evidence.
WebReadyTM Powered by WireReady® NSI