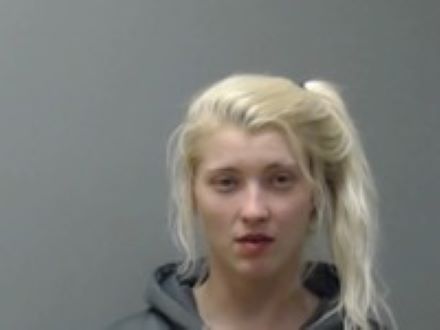 Photo: Dakota Christine Frasier
A 24-year-old woman was sentenced to five years in prison — with three suspended and two to serve — on residential burglary charges during a session of Baxter County Circuit Court Thursday.
During a sentencing hearing earlier this month, Dakota Christine Frasier, whose last listed address was in Theodosia, made an emotional appeal to the court for mercy.
She told Circuit Judge Gordon Webb about efforts she had made to repair what she termed the "wreckage of my life. I now eat, breathe and sleep recovery," she said.
Fourteenth Judicial District Prosecutor David Ethredge said during the hearing he appreciated the efforts Frasier had made to get her life back on track.
The prosecutor told the court, however, it is his policy to recommend prison time for people charged with breaking into the homes of others. He said Frasier had violated the homes of three sets of victims and there "had to be consequences for what she did."
Ethredge said the state recommended a sentence of no less than eight years. Frasier's attorney, Mark Cooper, said it would be "counter productive" to send his client to prison.
Judge Webb said he would take the information presented by Frasier during her sentencing hearing under advisement.
In announcing his decision Thursday, Judge Webb said it had been difficult to arrive at a sentence. He said he respected the "significant efforts" Frasier had made to battle her drug addiction, but he "respected the position of the state. A home is a person's castle. Arkansas law makes that clear."
Judge Webb said Frasier would get prison time. He told her, "There is not a lot of rehab in the Department of Correction, but it's there if you want it, and I encourage you to take advantage of what is available."
She pled guilty to the charges in October last year, with sentencing put over until this month.
Frasier was charged with breaking into three homes and stealing items. The break-ins were reported at residences along Glenstone, Ridgecrest and McClure in Mountain Home in late June last year.
Items stolen included prescription medications and a wallet. One victim reported the items stolen had an estimated value of $600.
According to the probable cause affidavit, Frasier was arrested June 23 on outstanding warrants. A search of the vehicle she occupied with a co-defendant yielded items reported stolen from the three homes.
It was announced in court the items stolen from the three homes had been returned to rightful owners.
Frasier was allowed a moment with her family in open court before being taken to the Baxter County jail to await transportation to the state prison system.
WebReadyTM Powered by WireReady® NSI