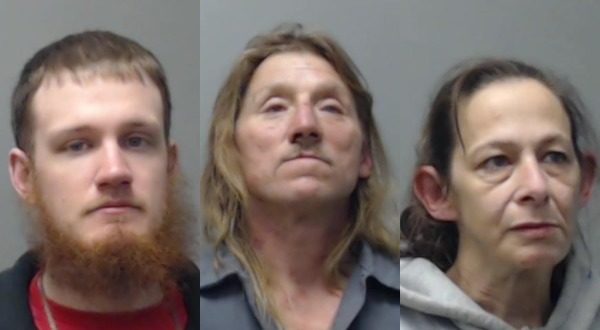 Photos: (from left) Jarred Lee Coddington, Troy L. Marlowe, Stacy D. Marlowe
Three Twin Lakes are residents already facing drug charges have new legal troubles after authorities uncovered a scheme to smuggle items into the Baxter County Detention Center.According to a news release from Baxter County Sheriff John Montgomery, 24-year-old Jarred Lee Coddington, 48-year-old Troy L. Marlowe and 48-year-old Stacy D. Marlowe all face felony charges of furnishing prohibited articles and conspiracy.
The plot was uncovered Thursday during a session of circuit court at the Baxter County Court Complex. According to the release, jail Corporal Andrew Hollis was guarding inmates when he located a package in the complex's bathroom containing tobacco, smokeless tobacco, marijuana wax, lighters and rolling papers.
The items were allegedly packaged in such a manner as to be concealed underneath a jail uniform, Montgomery says. Authorities reviewed video surveillance and identified Coddington, who is out on bail from previous drug charges, as entering the bathroom. Coddington was allegedly followed by Stacy Marlowe, who stood watch as Coddington entered the restroom. Thirty seconds later, Coddington allegedly peered out of the bathroom and called out to Stacy Marlowe, who then went inside.
After Stacy Marlowe exited the bathroom, the duo walked away together. Additional surveillance footage showed the pair together at different times and locations of the complex, according to the release.
An investigator from the sheriff's office located Coddington and questioned him about the incident, which he denied. After being confronted with evidence, Coddington changed his story and insisted he did not know Stacy Marlowe and never saw her enter the bathroom. Coddington was shown more video, changed his story once more and continued to deny he know Stacy Marlowe.
The investigation continued and authorities located recorded phone calls between Stacy and Troy Marlowe, who is an inmate at the detention center. The coupled allegedly had extensive conversations discussing the smuggling plot and how to drop the contraband at the Courts Complex. Authorities say the couple discussed how to conceal the contraband and Troy Marlowe continued to call Stacy Marlowe from the detention center, while she was at the Courts Complex, with additional instructions.
Coddington is being held without bond, pending an appearance in circuit court, according to Montgomery. Troy Marlowe remains jailed on his original $100,000 bond on the previous charges, while Stacy Marlowe left the complex. She was taken into custody on Friday afternoon, according to Captain Jeff Lewis of the sheriff's office. Her bond amount and electronic jail records remained to be filed.
This was not the first occasion Coddington had been involved with smuggling in the jail.
According to an affidavit filed on Tuesday, Coddington was charged with furnishing prohibited articles and possession of a controlled substance, methamphetamine, both of which are felonies. He also faces a Class A misdemeanor charge of possession of a controlled substance, marijuana, as well as a penalty enhancement of being a habitual offender.
The affidavit states an inmate being discharged from the detention center on Saturday alerted authorities Coddington had allegedly been passing contraband to other holding cells, utilizing the inmate phone.
Further investigation uncovered inmate Harry Shaffer had most of the phone cord in his cell, which the jailer removed. The witness then explained contraband was being passed from the H2 area of the jail to the female pod, with the jailer allegedly locating fishing line running from that area to the female pod.
A group of female inmates were sitting near a table closest to the door and were confronted by jailers, who demanded any contraband be turned over or the unit would face an immediate shakedown. An inmate, identified as Destiny Reasons, asked for 30 seconds from the jail staff, who said they would allow one minute, and left the pod.
The jailers began to examine the phone and located a small, folded piece of paper attached to the receiver by a pony tail holder. The substance was allegedly white and powdery, and field test positive for methamphetamine when examined by Mountain Home Police Department officers. Jailers returned to the female area and retrieved a folded piece of paper which "had the odor of marijuana."
A search was conducted of two cells, with a screwdriver and chewing gum located in H2 and Tylenol and ibuprofen found in H3. Coddington, who was an inmate at the time, was viewed from the jail tower and seen to be reaching, fidgeting and trying to conceal items. When confronted, Coddington turned over a large bag of chewing tobacco to authorities.
Coddington had been booked at 7 p.m. on Feb. 7 for "weekend time to serve," according to electronic jail records.
WebReadyTM Powered by WireReady® NSI