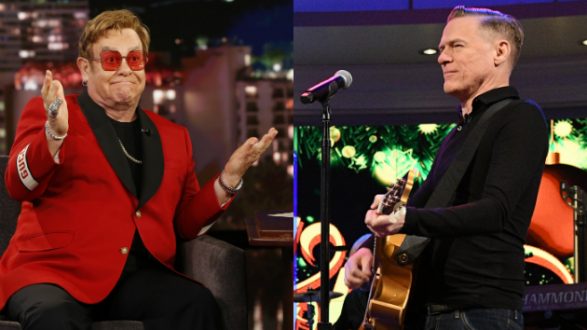 ABC/Randy Holmes; ABC/Lorenzo BevilaquaUniversal Music Group has confirmed that the master recordings of 19 artists were "affected" by the 2008 Universal Studios fire, including Elton John, Bryan Adams, Michael McDonald, Peter Frampton, R.E.M.
Those names were revealed in the latest filing in the ongoing lawsuit against UMG, obtained by Pitchfork.
The lawsuit was initially filed by Tom Petty's ex-wife Jane Petty, Soundgarden, the estate of Tupac Shakur, Hole and Steve Earle following a report from The New York Times Magazine alleging the destruction of thousands of master recordings in the fire, and the subsequent cover-up of the damage. Hole has since dropped off the suit.
The other acts listed in new documents are Sheryl Crow, Les Paul, The Surfaris, Suzanne Vega, Nirvana, Beck, Y&T, David Baerwald, Jimmy Eat World, Slayer, White Zombie, …And You Will Know Us By the Trail of Dead, and Sonic Youth.
Each artist named is accompanied by UMG's characterization of the extent of the damage. Nirvana, for example, had "certain original master recordings" affected, though UMG claims it has "replacements or copies of all of them."
UMG has previously denied that masters by Petty, Shakur and Earle, all of whom are listed in the NYT Magazine report, were lost. As for Soundgarden, UMG claims it informed the grunge band of the extent of the damage to their recordings back in 2015.
In a statement to Pitchfork, UMG calls the suit a "meritless legal case" full of "baseless claims."
Plaintiff-side lawyer Howard King says, "Universal claimed 17,000 artists were affected by the fire when they were suing for damages. Now that they face a lawsuit by their artists, they claim a mere 19 artists were affected. This discrepancy is inexplicable."
Copyright © 2020, ABC Audio. All rights reserved.