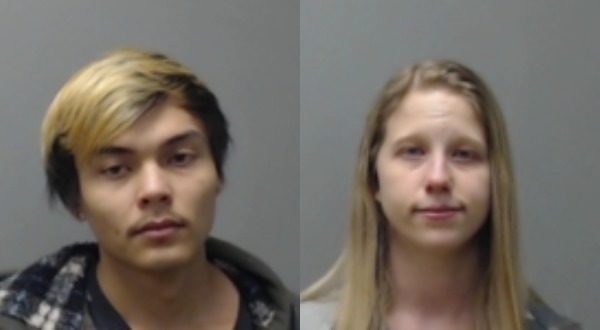 Photos: Timothy Jason Burkhart Jr. and Haleigh Josephine Angier
A citizen's report of two crying children ended with the arrest of two Mountain Home residents on drug charges and the removal of the toddlers from the home by the Arkansas Department of Human Services (DHS).
Twenty-four-year-old Timothy Jason Burkhart Jr. and 21-year-old Haleigh Josephine Angier each face felony charges of endangering the welfare of a minor and possession of drug paraphernalia. The duo also face one misdemeanor count of possession drug paraphernalia.
Mountain Home Police were called to a local apartment complex on Wednesday morning following a welfare check by a citizen. When officers arrived, the caller reported having heard children crying in a nearby apartment and had witnessed the parents leave the residence approximately 55 minutes earlier.
Sgt. Bryan Corbett's incident report states he also heard the children crying as he neared the apartment. After knocking on the door, the knob began to turn. Corbett said he twisted the knob a bit, and the door came open, where two small children wearing only diapers were located. Police later said the children were ages 1 and 2 years old.
Officers called for anyone else in the apartment, then discovered the children were alone. The report says the younger child was visibly upset and crying as he looked for the parents. Corbett picked the child up and comforted it until DHS representatives arrived. After officers located clothing, the children were handed over to DHS.
While looking for items that might identify the parents, officers located paperwork from district court with Burkhart's name, along with the mother's old work badge. The complex manager would provide the lease to confirm the identifies of the two, with an NCIC check revealing Burkhart was on felony probation and subject to a search waiver.
Officers observed drug paraphernalia in plain sight in both the bedroom and living area of the apartment, with additional items found after the search waiver was confirmed.
After over an hour on scene, officers left the complex, only to receive a 911 call from the apartment reporting two children were missing. Corbett and another officer returned to the scene, where they were met by Burkhart, who began to demand reasons why police entered and searched the apartment and why the children had been taken from the residence.
Corbett's report says the couple had to have it explained to them what they had done was "not right" and their behavior was child neglect. After the duo were arrested, Corbett reported the pair to the state's Child Abuse Hotline.
Burkhart and Augier remain jailed on $10,000 bonds each.
WebReadyTM Powered by WireReady® NSI