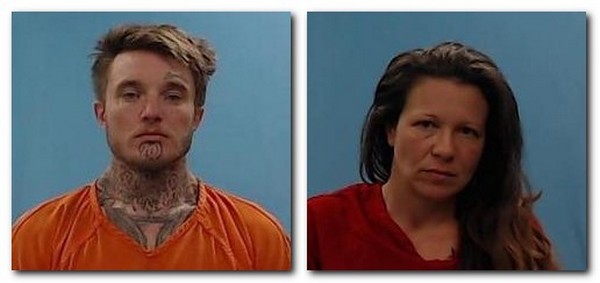 Photos: David Ray Powers Jr. and Lori Jo Stilley
Formal charges have been filed against a Missouri couple charged with robbing a bank in Boone County late last month.
Charged in connection with the aggravated robbery of the bank in Lead Hill are 28-year-old David Ray Powers Jr. and 41-year-old Lori Jo Stilley, both of Marshfield.
According to the probable cause affidavit filed this week, Stilley told law enforcement she and Powers went to a Walmart in Marshfield where they bought makeup to cover his tattoos. En route to Arkansas, Powers told Stilley he intended to rob a bank and handed her a pistol she placed under the seat of their vehicle.
Stilley said she searched bank locations for Powers while en route to Arkansas. When they arrived in Harrison, they viewed several bank locations to determine if they could readily escape if Powers robbed one of them.
Stilley said she waited in the car while Powers entered the Arvest bank in Lead Hill.
While inside the bank, Powers was allegedly standing in line waiting for a teller when he was motioned to an employee's desk for assistance. He then reportedly placed a hand-written note in the center of the employee's desk which read "This is a Robbery give me money I have a gun."
The employee told law enforcement Powers also told her "give me money now, I will use gun if I need to."
The employee took $1,387 from the drive-thru teller drawer, including two $50 bills know as "bait money" with known serial numbers, placed the funds in a bank bag and handed it to Powers, who left through the front door. He reportedly walked to the couple's car parked at the Lead Hill Post Office.
The employee noted Powers appeared to be wearing some type of paint on his face and arms.
An Arkansas State Police trooper apprehended the couple nearing the state line utilizing a description of their vehicle provided by bank surveillance footage.
A search of the towed car revealed a purse containing $1,387, including the two $50 in "bait money" and a .380 caliber handgun with its serial number ground off. The weapon was loaded with seven rounds, including one in the firing position.
Suspected methamphetamine was located on Stilley's person at the Boone County jail.
Powers is charged with aggravated robbery, a Class Y felony, as well as possession of a firearm by certain persons. He was also charged as a habitual offender. His bond was set at $100,000.
Stilley is charged with a felony count of accomplice to aggravated robbery. Her bond was set at $75,000.
Both also face felony counts of possession of a defaced firearm and possession of methamphetamine.
They remain in the Boone County Detention Center.
WebReadyTM Powered by WireReady® NSI