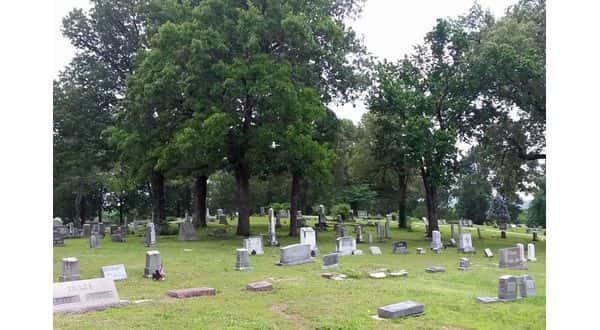 A section of a local cemetery is being recognized by the National Park Service. The Mountain Home Cemetery's Historic Section was added to the National Register of Historic Places earlier this month.
The Mountain Home Cemetery Board applied last year to the Arkansas Historic Preservation Program, an agency of the Department of Arkansas Heritage, to be approved to apply for the register. The application was approved by the state in December. The Arkansas Historic Preservation Program's national register and survey coordinator Ralph S. Wilcox later submitted the application to the national register.
The Historic Section of the Mountain Home Cemetery is located five blocks south of the Baxter County Courthouse at the intersection of Baker and 11th streets. The cemetery is located on a hill with a U-shaped driveway through the property.
The entrance is marked by a sculpted metal sign reading "Mountain Home Cemetery." The sign was designed by a local architect as industrial mid-century modern using a repeated abstract concept of a cross within the supporting towers.
The Historic Section of the cemetery encompasses Sections A and F. Section A is located on the inside of the driveway at the northern end of the cemetery, and Section F is immediately west of the driveway.
The historic tombstones are located more in Sections A and F. The cemetery's markers exhibit a wide variety of classic cemetery iconography and symbolism. They include ivy, gates, open books, the kingdom, flowers, lambs, urns, draped cloths, clasped hands, crosses, crowns, weeping willows, doves and angels.
The Mountain Home Cemetery is a collection of donated properties and purchases from individual landowners. The first acre was donated to Mountain Home by Milus S. and Catherine Casey Paul to be used as a cemetery when the city was laid out in 1874. When incorporation papers were filed 10 years later, the map included the donated land and named it the Mountain Home Cemetery.
The cemetery's first three burials are the nieces and nephews of Colonel Randolph D. Casey, the father of Catherine Casey Paul, and the grandchildren of Major Jacob Wolf. There were seven burials before the property was donated to the city in 1874. Milus S. Paul died shortly after the property was donated, and his burial was the first following the donation.
The National Park Service's National Register of Historic Places is the official list of the United States' historic places worthy of preservation. It was authorized by the National Historic Preservation Act of 1966 as part of a national program to coordinate and support public and private efforts to identify, evaluate and protect the country's historic and archeological resources.
WebReadyTM Powered by WireReady® NSI