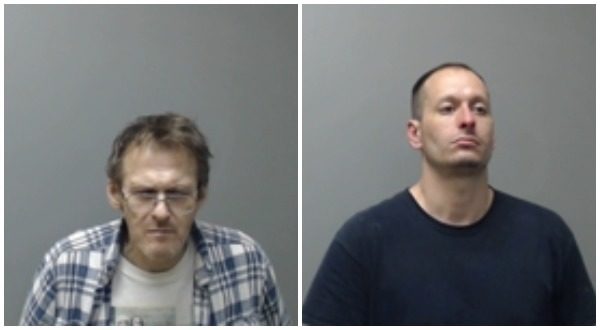 Photos: (from left) Ronnie Hayden Womack and Cody Benjamin Stradford
A Baxter County man placed on probation last year after being observed in the pharmacy section of the Flippin Walmart carving the edges of the lenses of his glasses with a knife has been arrested again on felony drug-related charges.
According to probable cause affidavits, 58-year-old Ronnie Hayden Womack of Gassville is being held in the Baxter County jail following his arrest Tuesday afternoon. Womack was a passenger in a vehicle driven by 34-year-old Cody Benjamin Stradford of Mountain Home.
Stradford was allegedly observed making a hand-to-hand drug transaction by a confidential informant (CI). The CI said Stradford then stuck a plastic container with a magnet under the rear bumper of a vehicle.
A short time later, a Mountain Home Police Department officer conducted a traffic stop of Stradford's vehicle, with the container located under the car's rear bumper. The container reportedly held a crystalline substance, drug paraphernalia and 48 Xanax pills.
Both Stradford and Womack denied knowledge of the box and its contents.
The two are charged with four felony drug charges, with two being for the purpose to deliver. Online jail records indicate both men are charged under the habitual criminal act.
Stradford's bond was set at $10,000, while Womack's was set at $5,000.
In the 2019 case involving Womack carving the edges of the lenses of his glasses with a knife, the Gassville man was sentenced to five years probation in Marion County Circuit Court.
According to the probable cause affidavit, a caller to law enforcement advised at the time of the incident Womack appeared to bob his head as his knees seemed about to buckle, as if he were about to pass out.
The store employee advised Womack had been in the establishment about an hour.
A Flippin Police Department officer arrived and observed Womack as he continued to carve on his glasses. He exhibited the same signs the employee reported as though he were about to pass out before jerking back to what was described as "a semi state of alertness" and then continued carving. When approached by the officer, Womack reportedly said he had been given permission by the store staff to fix his glasses.
The officer also expressed his concern to Womack, should he pass out while holding the knife. Womack told the officer he was fine and attributed his issues to his heart medications.
The officer noted he had to ask for Womack's identification approximately six times before he produced it.
When Womack was searched, a prescription bottle was located with one orange pill and a portion of a second one. In his wallet, law enforcement located a plastic bag with a white crystal-like substance.
At the Marion County Detention Center, Womack produced a case containing drug paraphernalia and residue.
WebReadyTM Powered by WireReady® NSI