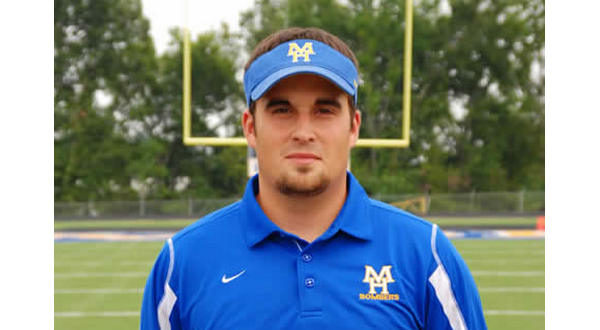 Photo: Bryan Mattox
Former Mountain Home High School head football coach Bryan Mattox has filed a lawsuit in Baxter County Circuit Court against the Mountain Home Public School District alleging breach of contact.
In the suit filed late Friday afternoon, Mattox demands reinstatement as head coach and be awarded his salary, retroactive to his date of termination. Mattox also demands a reasonable attorney's fee, as well as any and all other proper and legal relief to which he may be entitled.
Mattox is being represented by attorney Clayton Blackstock of Little Rock. According to Blackstock's website, he serves as general counsel for the Arkansas Education Association and has represented many educators in wrongful termination proceedings, securing pay due under contract or by statute.
The former Mountain Home head coach was relieved of his duties via a notice from the school district on Nov. 14, and a hearing under the Arkansas Fair Teacher Dismissal Act was held in December.
You can read the suit in full here.
The notice informed Mattox he was being terminated due to the following:
– Not demonstrating successful leadership of the district's football program
– Not demonstrating acceptable progress
– Losing the confidence of the district's administration, students, parents and patrons
– Failures materially interfering with the proper performance of his duties
– Just and reasonable cause to terminate his stipend and extended contract
Mattox's teams went just 1-29 in three seasons, but the suit alleges winning football games is not a requirement of the head coach or his coaching staff.
According to the suit, the district's head coach's written job description says coaches are required to complete the online National Football High School Coaches Education (NFHSC) course "Fundamentals of Coaching."
That course says coaches are teachers first and coaches second; students are students first and athletes second; and Mattox and the football coaching staff practiced those views.
The course explains winning on the professional level is required; winning in college has become expected but winning in high school is a pleasant byproduct. It also states: What coaches are really supposed to be doing is developing young people to be productive citizens; it is important to learn to win with class and lose with dignity, as there will be losses in life far greater than the game; reacting the same way to winning and losing is the quality most important because it stays with you for the rest of your life; and the coach's job is to help develop academic, physical, social, personal and psychological student growth.
Mattox alleges the school breached his contract because the reasons cited for dismissal do not fall under the terms of Arkansas Code that states teachers can only be terminated under contract for a district-wide reduction in force; incompetent performance; conduct which materially interferes with continued performance of the teacher's duties; repeated or material neglect of duty; or just and reasonable cause.
The suit goes on to state the district's citation of the coaches win-loss record and/or points scored in various quarters does not constitute just reasonable cause for termination. It also cites the termination recommendation was prompted by the complains of a few parents whose children were starters on the football team and an anonymous critique of the football team's statistics and plays.
While considering its decision following Mattox's appeal hearing, the suit alleges the Mountain Home School Board considered multiple points not included in his termination notice, which was something no "reasonable teacher" would be able to mount a defense for.
The suit alleges those points considered included, but were not limited to:
– Allegedly not reconciling the differences between the two private non-school related football league programs in Mountain Home
– Allegedly using sarcasm on a few occasions over the years when conversing with players
– An alleged lack of consistency in discipline for some student athletes who missed practice during the summer and alleged lack of discipline or consistency when students missed school or practice
– A decline in gate receipts at football games
– Allegedly not doing exit interviews with every exiting senior
– Allegedly not scheduling enough seventh, ninth and JV football games
– Allegedly not building rapport with other coaches to help with scheduling these games.
Mattox's attorneys allege the district refused to provide the names of a number of individuals who had allegedly made complaints against Mattox or were the subject of allegations against him, the district introduced anonymous statements at the hearing and the district presented documents at the hearing not previously seen by Mattox or his attorneys, such that the former coach was unable to adequately defend himself against the allegations.
WebReadyTM Powered by WireReady® NSI