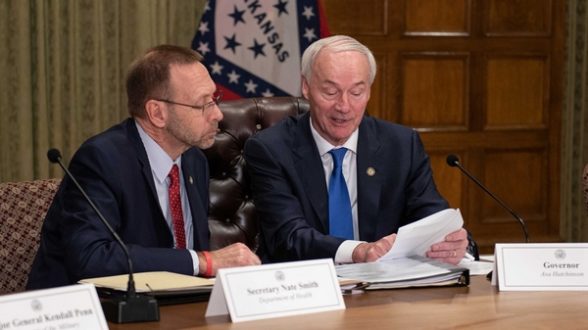 Arkansas Gov. Asa Hutchinson was joined by members of his cabinet to update citizens on the coronavirus/COVID-19 pandemic on Tuesday.
Click below to listen to the entire address:
Arkansas reports 794 more COVID-19 cases, 8 more deaths
LITTLE ROCK (AP) — Arkansas on Tuesday reported 794 more coronavirus cases and eight more deaths.
Gov. Asa Hutchinson said at a news conference the number of reported Arkansas cases since the outbreak began to be tracked in March has reached 29,733, with a total death toll of 331.
Hutchinson has not enacted a statewide mandate to wear a mask, but he is encouraging Arkansans to do so and has allowed cities to enact their own mandates.
On Saturday, the state reported a record 1,061 new cases.